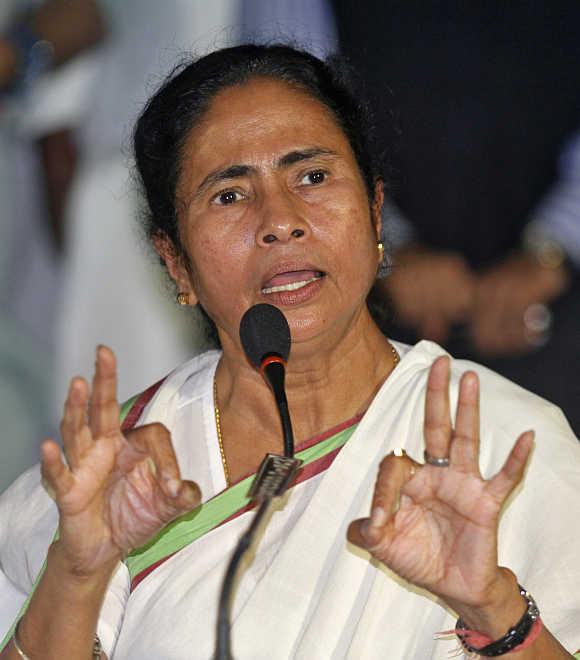 West Bengal Chief Minister Mamata Banerjee on Thursday painted a bright future for industry in Durgapur and other regions in the state in view of several big ticket investment proposals being lined up.
They include Rs 40,000 crore (Rs 400 billion) investment for the expansion of the public sector Durgapur steel plant, a Rs 3,200 crore road project as well as a 1,500 MW power project, Mamata said while inaugurating the third edition of the Asansol Industry and Trade Fair.
"The projects will create employment opportunities as well," she said at the fair which was attended by several industrialists, chambers of commerce and other trade bodies in this industrial town.
"Plans are there to start a Rs 3,200 crore road project as well as a 1,500 MW power project, which together would enable 16,000 persons to get jobs," she said without much elaboration.
She said that permissions were now easily available to set up new industry in the state. She pointed out that the upcoming Andal airport, being developed by Changi Airports International from Singapore along with BAPL, will increase connectivity with these industrial zones.
She also said that the Panchami Coal reserves and steel industry in Durgapur would create huge employment opportunities.
She said, "We will conduct core committee meetings every year for industry separately for these zones," adding that the Asansol-Durgapur, Bardhaman, Bankura, Purulia zones are very important for industry.
Referring to 100 days' work programme, she said it was imperative that the pace of work under the programme had to be quickened "so that a work which takes 100 days to complete will be finished in 50 days".
The industrial meet in the region came close on the heels of Bengal Global Business Summit organised by the state government to attract business in the state.