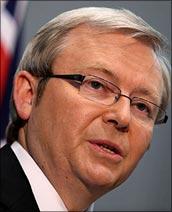 Placing emphasis on the central role that business plays in elevating bilateral partnerships between two countries, visiting Australian Prime Minister Kevin Rudd on Thursday told captains of Indian industry that both Australia and India share common commercial interests.
Business partnerships, he said demonstrate the power of entrepreneurialism, and added that when commercial vision is joined with complementary capacity, the possibilities are endless.
"The same is true of the Australian-Indian economic relationship as a whole. In the past 18 months, businessmen and women around the world have together faced the worst financial collapse in three quarters of a century.  We all know the figures -- the global economy is forecast to contract by 1.1 per cent in 2009 -- the first contraction since IMF records began," he said.
Describing the current global recession as the deepest in three-quarters of a century, Rudd said that the one startling fact that had become apparent:, was that "our economies are more interconnected and interdependent now than ever before."
"Our coordinated response to the global economic crisis -- driven by the G20 in which Australia and India are active-- has highlighted the benefits of cooperation.  It reminds us that global solutions to crises are through collective determination and action rather than insular policies. It has provided the strongest signal yet that the global economy has entered a new - though fragile - phase of recovery," he added.
Admitting that there was tentative talk of recovery, he said total recovery was still a long way off, and would be both slow and complex.
"Global economic activity, driven by the strong performance of Asian economies such as India and China, still remains below pre-crisis levels. Private consumption and investment are needed to sustain this recovery. This requires a smooth transition from government-supported demand to private-led demand. We also need to unwind the global imbalances that led us into this crisis. My message to the global community is simple:  we're all in this together, and we're all in this for the long haul," Rudd said.
Revealing what Australia has to offer, Rudd listed the following:
Strong fundamentals;
A stable, prosperous economy; and
An ongoing economic policy reform agenda.
Like India, the Australian economy has weathered the global recession better than most: "our economy grew in the June quarter at 0.6 per cent, making it the fastest-growing advanced economy in the past year and the only advanced economy to have reported positive through-the-year growth to June 2009; and while every major advanced economy has fallen into recession, Australia so far has not."
"But still, as the slight rise in our unemployment rate to 5.8 per cent today underlines, Australia is by no means out of the woods, yet -- as we still face such a fundamentally uncertain global economic outlook," he said.
"Australia is a significant economy. We are the 14th largest economy in the world. By market exchange rates, Australia is the fourth largest economy in Asia - after Japan, China and India, and the fourteenth largest in the world. We have the second lowest unemployment rate when compared with the Major Advanced Economies."
"Our public finances are sound, with Standard and Poor's reaffirming our AAA sovereign rating."
According to the OECD, Australia is projected to have a lower deficit in 2010 than any of the major advanced economies.
"We also have the lowest debt of all the major advanced economies, with government net debt projected to peak at 10 per cent of GDP in 2013."
"Australia is globally acknowledged for our resilient banking system and strong prudential and regulatory regimes: of the world's nine remaining AA plus rated banks, four are Australian; and the percentage of nonperforming bank-to-bank loans in Australia is among the lowest in the world.
"The strength of our banking system reflects a strong set of regulatory arrangements and a smart industry model," Rudd added.
"Most significantly, Australia prides itself as a good place to do business. In its 2009 survey, IMD rated Australia as one of the four most resilient economies globally, and the strongest in our region," Rudd said.
The World Bank ranked Australia as one of the most business-friendly economies in the world, offering a business environment that is both stable and flexible.
"And our corporate governance environment has also been ranked first by -- based on measures like: the transparency of our business and regulatory culture; the power and rights our shareholders enjoy; and the interaction between government and business," he said.
As far as India was concerned, Rudd said the strategic weight and structure of its economy have seen it withstand the impacts of the global economic crisis better than most.
"India has managed an impressive six per cent growth at a time when few other economies have managed any growth at all.  India has truly emerged as a central pillar of regional and global economic strength and significance," he said. 
"India is already Australia's fastest growing major two-way trading partner -- trade in goods was worth nearly 18 billion dollars in 2008-09. One important part of our relationship is of course the large number of Indian students who come to Australia - nearly one-fifth of the half a million students who come to our country. These students represent the future of Indian and Australian business -- and those who study together, stick together. And the Australian Government is committed to doing all that is physically responsible to ensure all international students in Australia have a safe and rewarding experience during their time as welcome guests in our nation. Indian students are welcome guests in our country and we have an obligation to extend the hand of friendship and support to all our Indian visitors," he said.
"India is a dynamic and diversified economy with an acknowledged infrastructure deficit and challenges in meeting the growing food and energy needs of its burgeoning population. Australia is a resource-rich country with a relatively small domestic market but a number of compelling comparative advantages, particularly in energy and resources," Rudd added.
"India is itself richly endowed with many mineral and energy resources.  And so there is significant potential for reciprocal investment in our resource sectors," he said.
Rudd also said that he was of the firm belief that a comprehensive, commercially meaningful FTA between Australia and India could deliver substantial new market access for exporters and investors, and open up job opportunities in both countries.
He said that the designation of the G-20 as the premier forum for global economic cooperation was an historic occasion for India and Australia. 
G-20 leaders recognised that a strong, stable and balanced global economy relies on:
1.  Strengthened financial regulation;
2.  Representative, legitimate and well-resourced international financial institutions;
3.  An open trading system;
4.  Strong labour markets; and
5.  Support for those most in need.  
He said that he was pleased that Australia and India are working together to address these five key challenges.
"Governments have a responsibility in unlocking this economic potential, and this is one of the key challenges I will be discussing with Prime Minister Singh.
"But that's only part of the story. Business leaders have an important role in recognising commercial opportunities and pursuing them -- whether they are in Mumbai or Melbourne. I'm delighted that our Trade and Commerce Ministers have agreed to establish a CEO forum to bring together the business elites of our two countries to discuss opportunities and impediments to greater economic cooperation. I look forward to reading their recommendations in 2010 on what governments can do," he concluded.