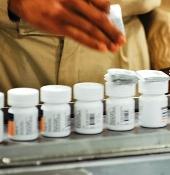 India has revoked a patent granted to GlaxoSmithKline Plc for breast cancer drug Tykerb, a decision that follows a landmark India court ruling disallowing patents for incremental innovations that was a blow to global pharmaceutical firms.

However, the Intellectual Property Appellate Board upheld a patent granted on the original compound, or active pharmaceutical ingredient, lapatinib, citing innovative merit.

As a result, a GSK spokesman said its medicine would remain subject to patent protection until 2019. The additional patent on the particular salt of lapatinib used in Tykerb, which has now been rejected, would have extended that protection to 2021.

India's Supreme Court in April rejected a patent for Novartis AG's cancer drug Glivec, saying it was an amended version of a known molecule called imatinib, setting the precedent for more such cases in the country.

GSK had cut prices of Tykerb by about a third in India as part of a flexible pricing programme designed to make important drugs more affordable in certain emerging markets.

Western drugmakers who covet a bigger share of India's fast-growing $13 billion drugs market have been frustrated by a series of decisions on intellectual property and pricing.

Last year, India revoked patents granted to Pfizer Inc's cancer drug Sutent, Roche Holding AG's hepatitis C drug Pegasys, and Merck & Co's asthma treatment aerosol suspension formulation. All were revoked on grounds that included lack of innovation.


Fresenius Kabi Oncology , the Indian unit of German healthcare group Fresenius SE , had challenged patents granted for both the original molecule and its marketed salt version, saying both molecules lacked innovation.
"This decision is just like the landmark Glivec ruling. The IPAB has said that the salt version of lapatinib cannot hold a patent," said lawyer Dominic Alvares of S. Majumdar & Co, which represented Fresenius Kabi in the case.
The IPAB rulings for both the patent disputes were uploaded on its website late on Thursday.
Shares in GlaxoSmithKline Pharmaceuticals , the UK company's Indian unit, fell 2.8 percent on Friday.
The company can make an appeal on the decision to India's Supreme Court.
"We are studying the IPAB's decision but maintain our belief in the inventiveness of the lapatinib ditosylate salt and will consider the possibility of taking further steps before the appropriate authorities to validate this," the Indian GSK unit said in an email to Reuters on Friday.
"We are pleased that the IPAB in India has upheld our basic patent for the lapatinib compound, the active ingredient in Tykerb." GSK said. The patent expires in January 2019.
A strip of 10 Tykerb tablets costs about Rs 4,160 in India and a patient is expected to take five tablets a day for 21 days if the cancer is in an advanced stage.
Western pharmaceutical companies, looking to emerging markets such as India to help drive growth, have run into various obstacles recently, ranging from corruption and pricing probes in China to stock management problems in Brazil.