Nikita Puri finds out what makes the company, which has tiled palaces, homes, restaurants and even railway stations, relevant for millenials, too.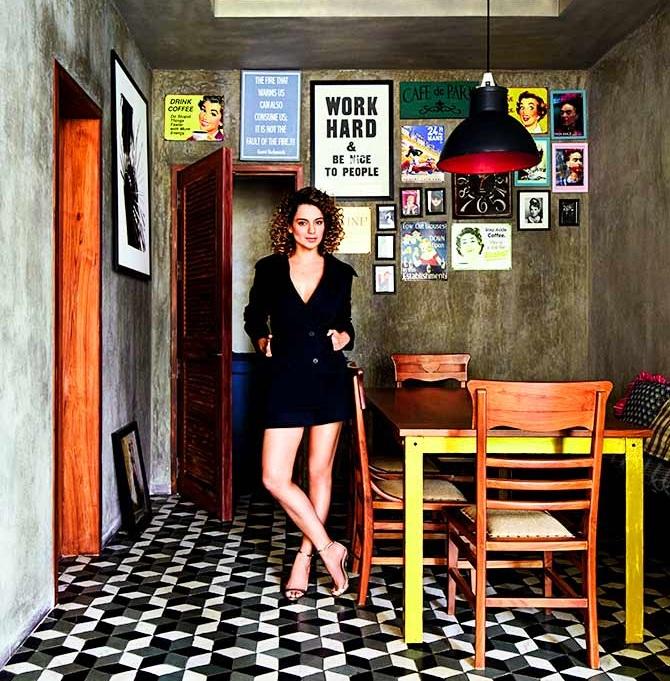 IMAGE: Besides places like Mumbai's Bhau Daji Lad Musuem and Chhatrapati Shivaji Terminus, tiles by Bharat Floorings tiles can also be seen in private spaces, including the home of Kangana Ranaut. Photograph: Simon Watson for Architectural Digest/Handout.
A year after Pherozesha Sidhwa had co-founded his tile-making company in 1922 with his nephew, Rustom, during the Swadeshi Movement, he had a whole batch of black-and-white patterned tiles thrown into the Arabian Sea. Sidhwa just wasn't happy about how the tiles looked.
"It was almost worth ₹50,000; that was a lot in those days," says Firdaus Variava, Sidhwa's grandson and vice-chairman at Bharat Floorings and Tiles.
It was only when Sidhwa went to Italy soon after the tiles were discarded that he realised that all they needed was better polishing.
Now "polished" in their personalities, Bharat tiles have floored the country for 95 years.
Sitting in Loft38, a lounge bar in Bengaluru, it'd be hard to ignore the black, white and grey tiles that contrast with purple and wooden interiors.
Across town, in a restaurant called Kesariya, where one celebrates Shekhawati cuisine with dal bati choorma served on silver plates and a haveli-styled decor, it's the red and yellow patterned tiles that dramatise the place.
These hard-to-forget floorings come from the Mumbai-based company that has decked the Nehru Place Social in Delhi in a cheery mix of heritage and contemporary tiles, and brought alive the charm of London's marketplaces through cobblestone flooring in a gastro-pub, the British Brewing Company, in Mumbai.
Bharat's tiles have also left their mark in residences of the ex-royals of Bikaner, Gwalior Jodhpur, and more. "Although 75 years have passed, all flooring is in excellent condition. It is beautiful and is a pleasure for me, my family members and guests who visit us," reads a note from the former maharaja of Vansda, Gujarat.
Besides places like Mumbai's Bhau Daji Lad Musuem, its tiles can also be seen in private spaces, including the homes of Kangana Ranaut, Lara Dutta and Alia Bhatt.
Go anywhere across the country, even to railway stations including the Chhatrapati Shivaji Terminus in Mumbai, and you're likely to be walking on Bharat's tiles: it's a legacy that dates back to 95 years.
In fact, if "you've grown up in Mumbai," says designer Ravi Vazirani, "you'd have to be living under a rock to not have seen the gorgeous floors at the Royal Bombay Yacht Club or any of the city's old buildings." (Bharat tiles are here too.)
Over the last two years, courtesy an Instagram hashtag #ihavethisthingwithfloors, Bharat's tiles are fast becoming the focus of a generation in search of the perfect frame.
Throw in the fact that these are handcrafted, and they fit right into a time that celebrates all things bespoke.
It was perhaps in his parents' generation, notes Variava that "people were more of cookie-cutters: they wanted a certain look. But nobody wants things just off-the-shelf today."
Moving away from plain or cream-coloured floors, the trend now is to have "floors with character," says Variava.
Customisation starts at ₹180 per sq ft.