Govt reconstitutes body, says will not interfere in senior PSB appointments
Former senior bureaucrat Bhanu Pratap Sharma is the new Banks Board Bureau (BBB) chairman.
The government took 12 days to appoint a successor to Vinod Rai, whose term ended on March 31.
The body was also reconstituted, at a time when there is a debate about governance standards at public sector banks (PSBs), after the massive fraud alleged at Punjab National Bank. A proposal to replace BBB with a holding company is also on the table, officials said.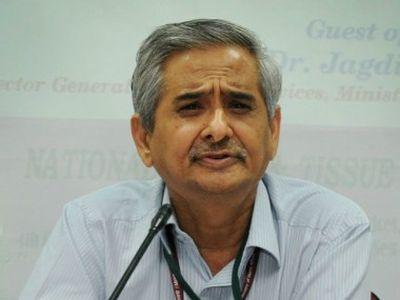 The government also appointed three members of BBB.
The board under Sharma will have a two-year tenure, same as its predecessor.
Sharma is a retired IAS officer, Bihar cadre, 1981 batch. He is presently chairman of the recruitment and assessment centre at the Defence Research and Development Organisation.
He had been health secretary and secretary for personnel and training at the Centre, before retiring last June from the civil service.
Vedika Bhandarkar, former vice-chairman and managing director (MD) of the India operations of Credit Suisse has also been made a BBB member.
So have Pradeep Kumar, former MD with State Bank of India, and Pradip P Shah, founder-MD of ratings agency CRISIL.
The government statement on these appointments also reiterated a commitment to not interfere in senior appointments at PSBs.
"Appoints new BBB with professionals with diverse expertise to select top management in PSBs," financial services secretary Rajiv Kumar tweeted.
The BBB was set up on the recommendations of a committee headed by banker P J Nayak.
The Union government announced the setting up of the bureau in February 2016.
Its mandate is to improve PSB governance, recommend on selection of chiefs of government-owned banks and financial institutions and to help banks in developing strategies and capital raising plans. It is based in Mumbai, at the Reserve Bank of India (RBI).
Pradip Shah told Business Standard two crucial elements - an insolvency resolution mechanism for stressed loans and a recapitalisation plan for PSBs - were already in place.
"Now, the banking system also needs good talent for making it robust," he added.
Batting for longer tenures for chief executives at banks, Shah said this would help shape a culture that gave prominence to performance, service standards and outcomes.
At present, PSBs have very eminent chairpersons. The boards of banks need to be further strengthened by inducting talent, he said.
Kumar later told reporters the government keeps itself at arms' length with regard to appointments and other personnel issues in PSBs.
"This is a very fundamental change because everything starts by putting the right person on the top.
"Management issues are very critical to any organisation. It is our renewed commitment that there will be no interference from the government side," he said.
The BBB's mandate continues as before, he added. And, said Sharma had wide experience in human resource (HR) issues.
"He has made very fundamental changes in many places. He was also Establishment Officer (EO) in the government, who deals with HR issues in the government," Kumar noted.
All senior appointments and transfers of central government officers are routed through the EO.
Kumar said the other three members were also having diverse expertise.
All the appointments made after constitution of the BBB were on its recommendations.
However, a banking analyst said, "The decision to appoint Sunil Mehta as Punjab National Bank chief and shift Usha Ananthasubramanian to take charge of Allahabad Bank last year were taken by a committee of bureaucrats formed by the finance ministry. It is not clear what role BBB played in their appointments."
BBB divides itself for the sake of impartiality into three boards. One is headed by a deputy governor of the RBI.
All the recommendations made by the earlier BBB will be put before the new BBB and taken forward, Kumar said.
While those on appointments were made effective, the other recommendations were about empowering of managements in terms of capacity building, such as in HR, training and appraisals.
"How do you create an environment in the middle level, where there is a whole lot of attrition in the banking space? How do you attract the best from outside?
"The government also experimented with hiring the best of talents from outside. All that experiment will continue," Kumar said.
Officials said the government has not shelved a proposal to set up a holding company in place of BBB.
"It will require amendment in the Banking Regulation Act, 1970 to dilute stakes of the government in public sector banks below 51 per cent.
"The Parliament is not in session right now and we will take it forward when the right time comes," an official said.
Finance Minister Arun Jaitley in February 2015 had said BBB would be "an interim step towards establishing a holding and investment company for banks."
Veteran banker PJ Nayak had recommended BBB would advise on all public sector board appointments for three years in the first phase which will be replaced by a holding company in the second phase and ultimately PSB boards will select their top managements.
Photograph: Kind courtesy, PIB