Coal India has raised objections to having industrial projects in the Asansol-Durgapur belt in the Bardhaman district earmarked by the West Bengal government for three steel projects - Bhushan Steel, Videocon and Abhijit group - totalling investment of Rs 49,000 crore (Rs 490 billion), on grounds that it is coal-bearing, though not part of its licensed area.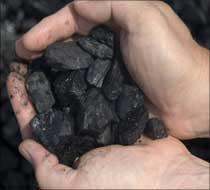 At a recent tripartite meeting with representatives from the government, Eastern Coalfields Ltd, Central Mine Planning and Design Institute and the steel companies, the Coal India subsidiary indicated that the entire area was coal-bearing, though the depth was not known, so projects should be moved out of the area.
With the public sector miner raising objections, the state faces the prospect of at least one investor pulling out. Neeraj Singal, managing director, Bhushan Steel, said "It will be difficult to set up the project in Bengal in some other location. We have done a lot of ground work...public hearings are complete, and also have railway clearances. We have already communicated this to the government." Bhushan has scaled up its steel plant size from two million to six million tonnes, an investment of around Rs 20,000 crore (Rs 200 billion).
Mumbai-based Videocon is setting up a three million tonne steel and power plant at a cost of Rs 21,000 crore (Rs 210 billion) and the Abhijit group has lined up a two million tonne steel plant for Rs 8,000 crore (Rs 80 billion).
Although Videocon, which has opted for the direct purchase route to acquire land for the project, is okay with relocation, Bhushan isn't, after having progressed significantly in the land acquisition process. Bhushan sources said at best the company could move 300 or 400 acres to the other side of its project site, but it would not shrink the land requirement of 2,500 acres.
Earlier this year, the state government signed a settlement with Coal India that offset its coal reserves for the country's first greenfield airport city project, Bengal Aerotropolis, because it was infringing into ECL's licensed area.
The airport city project was shrunk 400 acres and shifted eastwards to free some of the coal from ECL's licensed area.
As part of the settlement, the government also agreed to realign the steel projects and consult Coal India for future projects, a promise that has now come to haunt it.
However, West Bengal Commerce and Industry Minister Nirupam Sen said none of the steel projects were encroaching into ECL's licensed area. These projects were decided more than a year back, Sen added, but Coal India did not raise the issues then.
"What they are saying implies that nothing should come up in that area, but so many companies have bought land directly. The government of India has projects there. It needs to be seen at what depth the coal is. If it is at a depth of 1,500 metres, then it may not be viable. They could not furnish much data at the meeting," he said.
Coal India had earlier claimed 1,400 million tonnes of mineable reserves under the proposed aerotropolis site, but a major part of that was not viable, as the reserves were at a depth of 950 metres. Steel Authority of India Ltd's Durgapur Steel Plant also covers coal bearing zones, where coal reserves are at a depth of 1,000 metres.
If Coal India sticks to its ground that the projects should be relocated, industrialisation will suffer significantly, since the area is largely barren or at best single-crop, which is why it has been earmarked by the West Bengal government for projects.
Coal India sources said, "If we have the blueprint of the projects, then we can indicate the amount of coal. So far, we have only received Videocon's blueprint and the core mining area of that project could have 452 million tonnes of coal."
Venugopal Dhoot, chairman, Videocon group, said the government would have to find alternative land for the project if it were to be moved out and the coal should be allocated to the company on a priority basis. Another tripartite meeting is slated for later this month and the companies are hoping Coal India will change its stand.