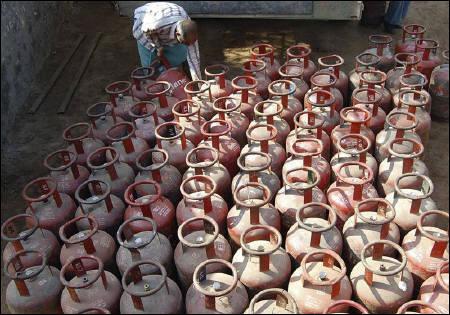 The Cabinet's decision to suspend cash transfer of cooking gas subsidy directly into bank accounts of consumers will deal a major blow to the government's "game-changer" Direct Benefits Transfer (DBT) scheme, as the subsidy on liquefied petroleum gas (LPG) accounted for 82 per cent of the total amount transferred under the scheme.
A year after DBT was implemented, the government has disbursed only Rs 3,124 crore through this channel. Of this, Rs 2,574 crore was towards the LPG subsidy, launched in June 2013.

If LPG is taken out, total transfers under the scheme would barely stand at Rs 550 crore. This suggests not much was transferred under the other schemes meant for students, minorities, labourers and women, among others. The transactions picked up in November-December 2013, when Assembly elections were held in five places.
The seeding of Aadhaar number with bank accounts of beneficiaries was also slow. Though 62 per cent, or Rs 1,915 crore, of the overall amount was transferred on the Aadhaar platform (the rest was through National Electronic Funds Transfer, a payment system facilitating one-to-one transfers) till the end of December 2013, much of this was towards LPG subsidy, carried out entirely through Aadhaar. Of the 4.4 million DBT beneficiaries identified, only 1.9 million (41.86 per cent) have their Aadhaar numbers linked with bank accounts.
The value of transactions on the Aadhaar platform ranged between Rs 4 crore and Rs 106 crore during January-August 2013. This jumped to Rs 230 crore in September, Rs 353 crore 9rs 3.53 billion) in October, Rs 444 crore (Rs 4.44 billion) in November and Rs 606 crore (Rs 6.06 billion) in December.
A government official said the rise in payments could be attributed to the increase in the number of districts in which the DBT scheme was used to transfer subsidy for LPG.
Another official said, "The number of transactions increased by about 20,000 a month from September; this was partly due to Assembly polls in five states and partly because of LPG transfers."
Though the government said LPG transfers have been put on hold due to issues involved in implementation on the ground, officials said things had started stablising and the increase in money transfers to beneficiaries from September was due to greater coordination among agencies.
Currently, the DBT scheme is used to transfer LPG subsidy in 292 districts; 237 districts have been added since October 2013. DBT schemes for other purposes have been launched in 121 districts. The government had launched the DBT scheme on January 1, 2013 to transfer cash directly into the bank accounts of beneficiaries under various schemes.
DBT covers schemes such as scholarships, Janani Suraksha Yojana, Indira Awas Yojana, unemployment assistance, payment of pension, wages for work under the Mahatma Gandhi National Rural Employment Guarantee Scheme, etc.