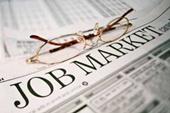 Layoffs announced by the US employers in February this year fell to the lowest since 2006 to over 42,000, as companies begun to shift focus from downsizing to hiring workers, a report said on Thursday.
Companies announced plans to reduce payrolls by only 42,090 last month, 77 per cent lower than 1,86,350 job cuts announced in February 2009, according to a job cut report by global outplacement consultancy Challenger, Gray & Christmas.
The February total was 41 per cent lower than January's 71,482 job cuts and is the lowest monthly total since July 2006, when employers announced 37,178 job cuts.
"Most economists agree that a recovery is well underway, a position that appears to be supported by declining job cut activity.
"It may be a couple of more months before hiring begins to surge, but it is clear that employers have shifted away from downsizing and are poised to start adding workers," chief Challenger, Gray & Christmas executive officer John Challenger said.
"In other words, we expect more cuts from mergers and acquisitions or from companies shifting focus from one business area to another," he added.
The overall decline in job cuts that has occurred over the last six-eight months is certainly an indication of increased optimism on the part of the nation's employers, the report said.
"Make no mistake, many are still struggling, but there is an overall sense that we have turned a corner. With downsizing showing dramatic signs of stabilisation, chances are good that increased job creation is approaching," Challenger said.
Some of the last year's largest job cutters, like the retail and auto sectors, are undergoing decline in downsizing, signalling the economy's turnaround.
Pharma sector lost the most jobs in February at 17,687, followed by government/non-profit (4,628) and health-care products (4,404).
The report said employers announced 20,068 job cuts last month due to merger and acquisition activity. Companies announced plans to hire a total 8,300 jobs, led by the electronics sector (5,000), entertainment/ leisure (1,100) and retail (954).
© Copyright 2021 PTI. All rights reserved. Republication or redistribution of PTI content, including by framing or similar means, is expressly prohibited without the prior written consent.