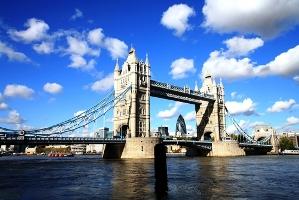 The British economy would get out of recession by the end of this fiscal, but witness a fragile recovery and higher unemployment thereafter, the Confederation of British Industry said on Monday.
"The UK economy is expected to exit the recession in the fourth quarter of 2009, but thereafter growth will remain subdued and gross domestic product is unlikely to have reached pre-recession levels by the end of 2011," the CBI said.
According to the organisation that represents about 2,40,000 UK businesses, the national GDP is projected to expand 0.5 per cent in the fourth quarter of this year, paced primarily by increased consumer spending.
Presenting a gloomy scenario for the labour market, CBI noted that unemployment which would rise in the coming months, is anticipated to cross 2.8 million in the third quarter of 2010.
"And after very constrained wage growth during 2009 and 2010, average earnings are expected to rise somewhat faster over 2011, at 3.9 per cent," the statement noted.
CBI deputy director-general John Cridland pointed out that even though the outlook is brightening, there is no sign of a clear driver of strong economic growth. ". . .the economy will be on a fragile path of very slow growth, as we continue to feel the lasting effects of the financial crisis," Cridland added.
Going by CBI's projections, the country's GDP would grow at 0.3 per cent -- which is expected to rise in the wake of improving global economic situation.
Growth in the range of 0.5 per cent to 0.7 per cent is expected to be maintained through to the end of 2011.
The statement noted that UK economy is expected to have a growth of 1.2 per cent in 2010 and 2.5 per cent in 2011.
"The UK economy faces a number of structural hurdles over the coming two years, and this recovery -- like that of the 1980s -- will be relatively drawn out," CBI chief economic adviser Ian McCafferty said.