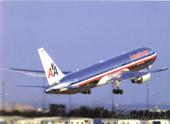 American Airlines on Wednesday said it is cutting 921 flight attendant jobs as part of its plans to trim workforce due to lower travel demand.
Of the 921 job reductions, 228 flight attendants would be furloughed, while another 244 would be put on involuntary leave in October and November.
An additional 449 attendants have chosen voluntary buyout packages, including overage leaves of absence, resignations with travel benefits and partnership flying.
"While these are tough decisions, we are reducing our number of flight attendant positions by 921, effective October 1," the carrier said in a statement.
The job cuts are part of airline's plans announced in June to cut 1,200 attendant jobs as it reduced the number of flights in its fall schedule.
The cuts, however, are 279 less than those announced by it earlier.
"Working closely with Association of Professional Flight Attendants, we saved the majority of jobs while balancing operational costs, a critical need for the company that benefits everyone in this extremely difficult economic environment," American said.
Of the 228 furloughs, 105 would be at New Yorks LaGuardia, 67 at Chicago's O'Hare Airport, 25 in Boston, 17 in St Louis and 14 at Reagan National near Washington.