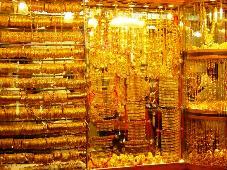 With an existing problem regarding a rising level of loans turning non-productive, banks are becoming cautious on exposure to gold finance companies.

They have sought data from these companies on loss absorption capacity in case of a fall in gold prices and higher defaults.

The trigger is the recent warning from Manappuram Finance, the country's first listed gold financing company, about pressure on profitability and higher than expected defaults as a fallout of the fall in gold prices.

The latter have declined by almost 10 per cent from a peak of Rs 32,500 for 10g in November 2012 to Rs 29,515 at present.

A senior official with Corporation Bank said they wanted a better assessment and were seeking information from gold companies for an impact analysis of the correction in prices and the loss absorption.

Another executive with a Mumbai-based bank said they were doing the same thing.

"We are (being) more cautious in giving further credit to them (gold financiers),"
he said.
M Narendra, chairman and managing director of Indian Overseas Bank, said his bank had stepped up monitoring on exposure to these companies.
However, banks do not also see a refinancing challenge, as they do not expect a liquidity issue with these companies.
The chairman and managing director of a medium-size public sector bank said the drop in gold prices and increase in delinquencies would not impact the liquidity; however, some gold loan companies might take a hit on their profits.
Last week, Manappuram said it expected an under-recovery of revenue on certain gold loan portfolios and thus might result in a reduction in profit numbers for the fourth quarter, ending this week.
Icra had recently highlighted the asset quality concerns after the Reserve Bank of India had tightened the loan to value norms.
It said the new norms could adversely impact asset quality of gold loan firms in the short term since borrowers wanting loan refinance would be eligible for a lower amount than was the case earlier.