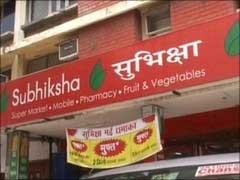 Subhiksha's bankers have set stiff terms for clearance of a corporate debt restructuring package for the cash-strapped retailer.
Though the banks are, in principle, favourable towards a moratorium/restructuring of Subhiksha's total debt of around Rs 800 crore (Rs 8 billion), they want to appoint an advisory board to keep a close tab on the company's operations and a chief financial officer to manage the finances, besides setting up a corporate governance committee.
Banking and private equity sources said Subhiksha promoter and managing director R Subramanian had also committed to bring in or tie up additional funds required to run the company again and had agreed to re-open around one-third of its 1,600 stores once the CDR was cleared. The CDR cell met on Monday, but no final decision was taken.
Bankers are also waiting for the company's results before making any final commitment. Discussions have been held on a detailed plan submitted by Subramanian as to how he plans to run the company once the CDR is approved.
In an email, Subramanian said: "In view of the process going on being confidential and involving multiple stakeholders, we cannot comment. We will make a media statement once we are ready to formally announce the understanding."
Bankers and other stakeholders also felt that Subramanian should continue as the MD as he knew the problems of the retail company and was the best person to find a solution.
Its main shareholders - ICICI Venture and Zash Investments, promoted by Azim Premji - were also involved in a bitter battle over Subhiksha after Zash bought a 10 per cent stake in the retailer from ICICI Venture for Rs 230 crore (Rs 2.3 billion) last year.