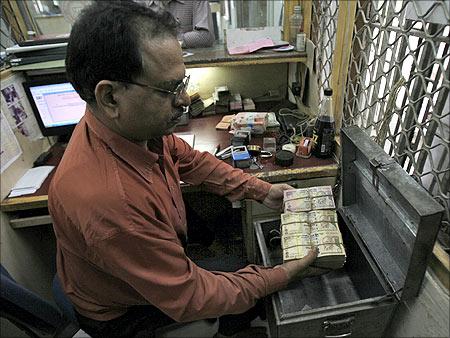 Dissatisfied with the wage hike offer made by Indian Banks' Association (IBA), public sector lenders' employee unions on Monday threatened to go on a two-day strike from February 10.
"In today's meeting, IBA improved their offer by meager 0.5 per cent to 10 per cent on pay slip cost. This was rejected by unions," United Forum of Bank Unions (UFBU) Convener M V Murali told PTI.
UFBU has decided to go on two day nation-wide from February 10 to press for higher wage revision, he said.
General Secretary of National Organisation of Bank Workers, Ashwini Rana, said as offer made by bank management is not in line with the rising inflation, the unions are compeled to stage protest.
Staff of public sector banks had gone on a one-day nationwide strike on December 18.
The unions had gone on strike as discussions with IBA on wage revision on December 14 failed. The wage revision of public sector bank employees is due from November 2012.
United Forum of Bank Unions is an umbrella organization of nine bank employees and officers unions.
There are 27 public sector banks in the country with employees strength of about 8 lakh. There are about 50,000 branches of these banks across the country.
© Copyright 2020 PTI. All rights reserved. Republication or redistribution of PTI content, including by framing or similar means, is expressly prohibited without the prior written consent.