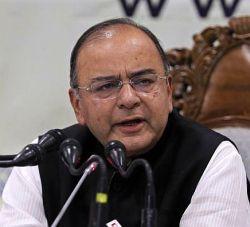 Representatives of United Forum of Bank Unions, comprising mainly of PSU bank employees, on Friday met Finance Minister Arun Jaitley and sought his intervention for early settlement of wage revision negotiations.

"We submitted our representation to the Finance Minister and apprised him of developments with regard to wage negotiations with Indian Banks' Association," UFBU Convener M V Murali said.

He said the Finance Minister assured the delegation that the Financial Services Secretary would look into the matter and the settlement process would be expedited.

The delegation informed that more than 10 rounds of discussions have taken place between bank management and UFBU so far on the issue but IBA is delaying the settlement.

"Despite a lapse of 20 months since the start of negotiations, no significant improvement has been made towards expeditious conclusion of settlement.

"Moreover, IBA is offering the least increase quoting non-affordability of banks in paying higher wages partly because of increase in Non-Performing Assets," Murali said.

The spiralling cost of living and the high rate of inflation in the last few years has made the life of common man miserable, he said, adding that as against the reasonable demand of 25 per cent increase in the pay slip components, the IBA has offered a very meagre 11 per cent increase.

The wage revision of public sector bank employees has been due since November, 2012.

"We are still waiting for our 'ache din' (good days) under Modi Sarkar," said National Organisation of Bank Workers General Secretary Ashwini Rana.

In the last round of wage revision settlement signed in 2010 for 2007-12, the management had agreed to 17.5 per cent raise in the total salary.

There are 27 public sector banks in the country with a combined employee strength of about 800,000.

There are about 70,000 branches of these banks across the country.
Image: Finance Minister Arun Jaitley