'The wage revision for bank employees is due from November 1'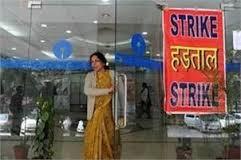 The proposed four-day bank strike from January 21 has been deferred.
Public sector bank employees had earlier decided to go on a 4-day strike from January 21 to protest against the 'rigid and callous attitude' of central government in resolving the long pending wage revision issue, a senior union leader said in Chandigarh on Monday.
Earlier, it was decided to hold 1 day strike on January 7, which was deferred on the request of Indian Banks' Association to find out an amicable solution, All India Bank Officers' Confederation state secretary Deepak Kumar Sharma said.
The wage revision for bank employees is due from November 1, 2012, he said.
UFBU has been requesting, since the start of negotiations, a time-bound approach to hold the negotiations on its demands and for conclusion of wage settlement within a reasonable time but there is no significant progress in the wage negotiations despite a lapse of two years' time, he said.
He claimed that despite disparity in wages and hardships of unlimited working hours, the employees of the banking industry, the backbone of the economy, are denied their due share.
Sharma said this was despite the workers being recognised by all for achieving all National/Social objectives set before them including opening of Jan-Dhan Yojna Accounts.
He said the public sector bank employees have also decided to go on an indefinite strike from March 16 onwards and that the notice in this regard has already been served by UFBU to the IBA.
© Copyright 2023 PTI. All rights reserved. Republication or redistribution of PTI content, including by framing or similar means, is expressly prohibited without the prior written consent.