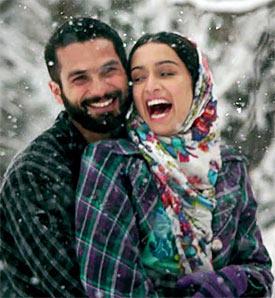 Indian cinemagoers will be spoilt for choice this festive weekend, as not one but two high-profile films will be hitting the screens on Thursday.
While on the one hand, Fox Star Studios is releasing its romance-action movie Bang Bang, on the other, UTV Studios has the Bollywood adaptation of Shakespear's Hamlet to offer.
While many might look at the two releases as a clash of titans, the studios maintain the sole reason for releasing the movies on October 2, a Thursday, is the five-day weekend. Apart from the same release date, the two movies have little in common.
Bang Bang is the Indian remake of Fox's Hollywood production Knight and Day, starring Tom Cruise and Cameron Diaz.
The Indian version features Hrithik Roshan and Katrina Kaif and is directed by Siddharth Anand. Haider is directed by Vishal Bhardwaj and stars Shahid Kapoor and Shraddha Kapoor in the lead.
The movie also features Tabu, Irrfan Khan and Kay Kay Menon in pivotal roles.
Apart from the diverse content of the two movies, their cost is also a big factor to consider. "While Haider has a total cost of Rs 38-40 crore (Rs 380-400 million),Bang Bang has been made on a budget of Rs 140-150 crore or Rs 1.40-1.50 billion.
The dynamics of the business both the movies do will be governed by their content appeal," says an analyst.
Analysts also believe the content of the movie has governed the scale of each film's release. While Bang Bang will be released in some 4,500 screens across the world, Haider, which is fairly niche in its content and appeal, will be launched in 1,400-1,500 screens world-wide.
According to the analyst cited above, the challenge for Bang Bang will be to click with the audience and make at least Rs 250 crore or Rs 2.50 billion in the domestic market to breakeven.
Haider has a lower risk in terms of break even because the cost of the film is almost one-fourth of Bang Bang.
One of the main costs for the Fox Star movie, apart from actors' fees, has been the various locations it has been shot, informs the studio. "An adventure film with a huge scale, Bang Bang is an adventure film, an action-romance that needed the stars to travel across the world to join the dots and solve a mystery. The story took them to Prague (Czech Republic), the US, Thailand, and Greece and the makers did not compromise on the scale of the film and gave the story its due."
BOLLYWOOD BUZZ
Bang Bang will be released in some 4,500 screens across the world, Haider, which is fairly niche in its content and appeal, will be launched in 1,400-1,500 screens world-wide
Rs 38-40 crore: Total cost of production for Haider
Rs 140-150 crore: Total cost of production for Bang Bang
October 2: Release date of both the mentioned movies