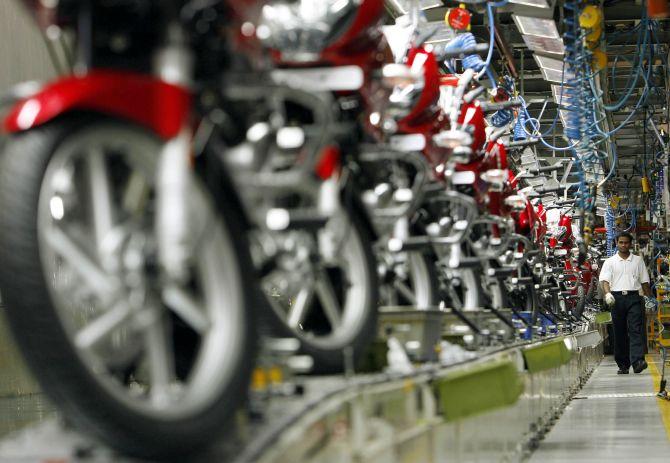 The Vishwa Kalyan Kamgar Sanghatana, an independent trade union of Bajaj Auto on Wednesday received a set back as local authorities around Bajaj Auto's Chakan facility extended full support to Bajaj Auto on the strike issue.
There are around 200 villages whose sarpanch have extended full co-operation and support to the management in view of the forthcoming strike declared by the Union, scheduled to take place any day after May 15, Bajaj Auto said in a statement.

According to the statement, during local authorities' meeting with the management, their primary concern was that such strikes impact existing industries by reducing manufacturing volumes, investments, future expansions and new entrants may also hesitate to invest in Chakan area in the near future.
"This will invariably create hardships for various people belonging to low-income groups. They also resolved that, there should not be any closure of the plant, as many families are highly dependent on the Bajaj Auto plant for their daily wages," said the statement.

The union had threatened to go on strike on April 28, but later deferred the proposed strike till May 15 saying that workers have decided to give more time to the management to consider their charter of demands.
This time around the demands include allocation of CSR funds for education of employees' children, setting up a museum in the name of company's founder Jamnalal Bajaj within a year and allotment of shares at a discounted price.
Few sarpanch who extended their support to Bajaj Auto are - Datta Tanaji Gire - Mahalunge, Santabai Govind Thakar -Kadachiwadi, Ashokseth Narayan Mandekar- Ambethan, Kaanchan Tai Santosh Shinde - Nighoje, Ashatai Shivaji Sonawane - Kuruli, Ramdas Kusalkar Sarpanch - Nanekarwadi.