Meridian Tech Pte has its development centre in Hyderabad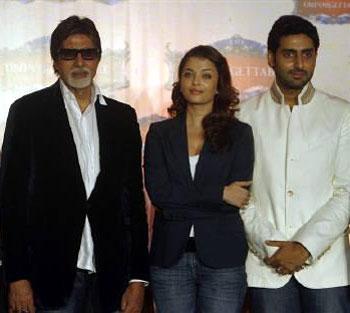 The Bachchans have made their first significant equity investment in an overseas company through the Reserve Bank of India (RBI)'s Liberalised Remittance Scheme (LRS).
The father-son duo, Amitabh and Abhishek, have invested $250,000 (approximately Rs 1.57 crore) in Meridian Tech Pte Limited, a Singapore-based company that runs free cloud storage, e-distribution and micro-payment platform Ziddu.com, at a valuation of $71 million.
The five-year-old company has its development centre in Hyderabad.
"The investments were made through two separate accounts - $150,000 from Amitabh's account, and $100,000 from a joint account belonging to Amitabh and Abhishek. We will soon allot a minority stake to the Bachchans," Venkata Srinivas Meenavalli, founder and chief executive of Meridian Tech, told Business Standard.
The Bachchans already hold 3.4 per cent equity stake in Stampede Capital, a Hyderabad-based equity and currency broking, financial cloud and infrastructure services provider founded by Meenavalli in 1995.
"I am very happy and excited that Amitabh Bachchan has reposed confidence and trust on Ziddu.com," Meenavalli said.
Quoting Google Analytics, he said Ziddu.com was currently generating 1.2 billion page views with over 300 million visitors per month from more than 225 countries. The company reported revenues of $20 million in the 2014 calendar year.
The RBI had announced the LRS scheme in February 2004 as a step towards further simplification and liberalisation of the foreign exchange facilities available to resident individuals. As per the initial scheme, resident individuals may remit up to $125,000 per financial year for any permitted capital and current account transactions or a combination of both.
The central bank, however, doubled eligibility limit for foreign exchange remittances under the LRS to $250,000 per person per year, in March this year.