Two-wheeler prices are likely to rise by 10-25 per cent on account of higher premiums on insurance and commodity prices, mandatory safety regulations and BS-VI emissions that kick in from April 1, 2020.
Prices of two-wheelers are likely to surge by almost a fourth after a slew of new regulations on safety, emission, and fuel efficiency come into effect over the next 21 months.
The price rise is set to pose a speed bump for sales of motorcycles and scooters in the world's largest market, said analysts, adding that entry-level two-wheelers will be affected the most.
Officials at most firms, including Hero MotoCorp, Honda Motorcycle and Scooters India, TVS Motor and Bajaj Auto declined to comment.
Two-wheeler sales in India have been rising at a brisk pace year-on-year. It expanded at a record 15 per cent to 20 million units in the year that ended in March 2018. It zipped past the 17 million-mark for the first time, overtaking China in fiscal 2016-17. In the first five months of the ongoing fiscal, it grew 11 per cent to 9,443,286 units, according to the Society of Indian Automobile Manufacturer (Siam).
On account of higher premiums on insurance and commodity prices, mandatory safety regulations and BS-VI emissions that kick in from April 1, 2020, the costs are likely to rise by 10-25 per cent, wrote Arya Sen and Ranjeet Jaiswal, equity analysts at Jefferies Equity Research India, in a September 20 report. "All these "known costs" add up to at least 10-25 per cent increase in on-road prices across models over a two-year period with most of the increase being bunched up from now to April 2020."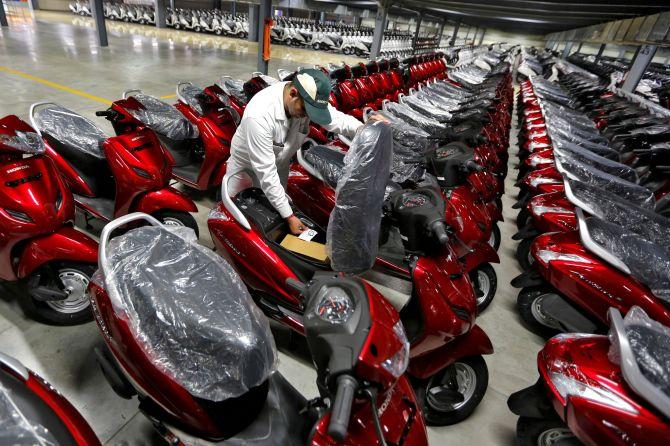 "This is unusually sharp compared to 2-4 per cent increase in two-wheeler prices over FY08-18. The price increase is particularly sharp at 17-27 per cent for entry-level motorcycles and mopeds. Our calculations also do not take into account any 'unknown' or regular cost increases," they wrote in their report.
While some of the costs increases have already taken effect, others will become reality soon.
Earlier this year, the Supreme Court mandated a five-year premium for third part insurance for two wheelers effective September 1. Based on IRDA rates, this implies an increase of Rs 2,500 for entry/ executive motorcycles and scooters (up to 150cc) and Rs 4,500 for premium motorcycles.
Most of the increases have already been passed on to the buyers. On-road prices (which includes insurance costs among other things) have gone up from Rs 3,000 to Rs 8,000.
A mandatory requirement of safety regulations such as the combined braking system in all two wheelers up to 125cc and an anti-lock braking system in those above 125cc from April 1, 2019, by the ministry of road transport and highways is likely to lead to a cost increase of up to Rs 4,500.
Implementation of the BS-VI norms, which will require manufacturers to replace the fuel delivery system from carburetors to fuel injection, will lead to another round of price hikes ranging from Rs 4,000 to Rs 7,000 wrote the Jeffries analysts.
Meanwhile, manufacturers are also facing cost headwinds from increase in commodity prices prompting some of them to announce price hikes. Two-wheeler market leader Hero MotoCorp, for instance, said on September 26 that it will hike prices of models across its range by up to Rs 900 from October 3 to offset increase in raw material prices and weaker rupee. Others are also like to follow suit.
Some believe that regulatory changes are likely to pose a bigger challenge for firms that draw a major chunk of sales from the entry-level segment.
"We expect a scenario where a spike in two-wheeler prices and low fuel efficiency post BS-VI may pose a challenge to original equipment manufacturers with high entry/commuter segment exposure and hasten consumer upgrade velocity, unless players sacrifice their margins significantly. Smooth transition to new emission norms without sacrificing performance/reliability will showcase the technological capabilities of manufacturers," wrote analysts Priya Ranjan, Apoorva Patil and Vikrant Gupta, analysts at Antique Stock Broking.