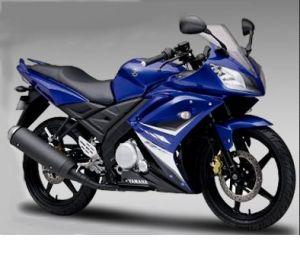 Japanese two-wheeler major Yamaha said on Tuesday it is looking at capturing 10 per cent market-share in the Indian motorcycle market by 2012.
"Our aim is to capture 10 per cent share in the Indian motorcycle market by 2012. For that we will make substantial investment in launching new models," India Yamaha Motor CEO Yukimine Tsuji told reporters at the 10th Auto Expo in New Delhi.
The company is also aiming to increase its market share in the 150cc motorcycle segment to 25 per cent by the end of this year from 15 per cent at present.
"In the 150cc segment, which is of 8.5 lakh units, we have at present a market share of 15 per cent and by the end of this year, we are aiming for a share of 25 per cent, Tsuji said.
He said the company is planning to focus on all motorcycle segments as part of growth strategy.
The company launched on Tuesday an advanced version of its racing bike YZS-R1 priced at Rs 12.5 lakh or Rs 1.25 million (ex-showroom).
It also launched a limited edition of its 150cc bike YZS-R15 priced at Rs 100,000.
The Indian two-wheeler market comprises of around 80 lakh (8 million) units annually, of which over 60 per cent is constituted by motorcycles.
India Yamaha motor is also aiming to increase its domestic sales as well as exports this year.
"In the domestic market, we are targeting to sell 3,10,000 units this year against 2,20,000 in 2009. As far as exports are concerned, we are aiming to more than double them to 1,50,000 units this year compared to 70,000 units in 2009, Tsuji said.