The issues unions have been pursuing aggressively include forced suspensions, flexible work conditions, recognition of a union and salary parity for contract workers.
A strike over the suspension of a union leader has crippled production at Mahindra & Mahindra (M&M)'s Igatpuri engine plant in Maharashtra. This has hit production of sports and other utility vehicles at other plants of the company.
The strike at the Igatpuri plant, which manufactures engines for M&M products such as XUV500, Xylo, Scorpio, Bolero, Genio and Maxximo, entered its tenth day on Thursday.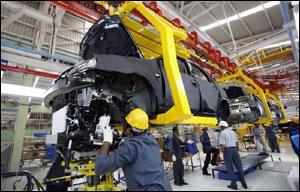 Union activism is not new to M&M or the automobile industry. The issues unions have been pursuing aggressively include forced suspensions, flexible work conditions, recognition of a union and salary parity for contract workers. As most demands see extended negotiations, stoppage of work during these periods leads to production losses.
The strike at the Igatpuri plant comes barely a month after the company saw a strike at its Nashik plant, which resulted in a loss of at least 650 vehicles. The influential workers' union at the Nashik facility had demanded the reinstatement of a suspended office bearer, besides revised wages.
Worker unions at other automotive companies, too, have raised various demands with managements. Their means have ranged from a complete 'tools-down' strike and a 'go-slow' approach to tampering with components.
In January, two- and three-wheeler maker Piaggio Vehicles saw a tools-down strike, owing to wage-settlement demands. Ravi Chopra, chairman and managing director of Piaggio Vehicles, said, "During wage settlement, there will be some people who will feel 'differently'; so, one way of protesting is to 'go slow'."
Like M&M, Piaggio also had to resort to its inventory to make up for the loss in production.
So far, the tools-down strike at the Igatpuri plant (in which about 1,600 employees are participating) has led to a production loss of at least 7,000 engines, say sources. M&M's passenger vehicle producing plants such as those in Nashik and Chakan procure engines from the Igatpuri plant, which produces an average of 1,100 engines a day.
When contacted, M&M chose not to comment for this story.
K L Bajaj, vice-president of the Centre for Indian Trade Union, said due to the 'so-called' recession in the automobile industry, in the last six months, conditions for workers had been dismal. "In the big companies, there is no legal protection and benefits offered to unorganised workers and, therefore, they are dissatisfied," he said. About 70 per cent of the automobile industry was accounted for by small-scale industries, including the tyre industry and the vehicle-parts industry, he said, adding, "These workers neither get any protection from government, nor do they get minimum wages, gratuity and other benefits. Therefore, voicing their dissatisfaction is natural."
In the last six months, Bosch, General Motors, Hyundai, Hero MotoCorp and Maruti Suzuki have seen production being hit by strikes. In July 2012, Maruti Suzuki faced one of the most violent strikes at its Manesar plant.
Following this, several workers were dismissed.
Human resource experts said while the cost of living had risen in automobile hubs such as Gujarat, the Delhi-National Capital Region and Maharashtra, salaries hadn't increased. Sunil Goel, director, Global Hunt, said since the profits of automobile companies were falling, these companies were very selective about salary increases. "In such cases, blue-collar workers may not be given a pay rise. This, coupled with lack of communication on the reasons for this decision, often raises doubts among workers," he said.