Maruti's premium push is welcome but the task is tough: examples of a mass-market brand becoming premium aren't too many, says Bhupesh Bhandari.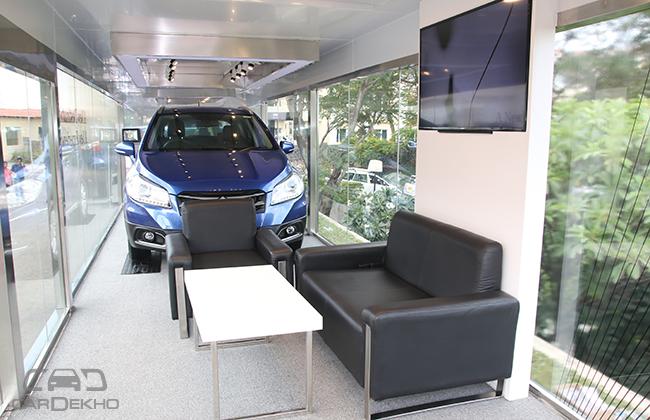 Analysts have taken a positive view of Maruti Suzuki, the country's largest car maker, going premium with its Nexa showrooms.
The initiative will help the company make inroads into the Rs 7-lakh-plus category, something it has not been able to crack in several attempts.
These outlets will have an upscale look and feel. Instead of salesmen, these will have "relationship managers" who will stay connected with customers after the sale has been done.
Cars on offer at Nexa will not be available in other Maruti Suzuki dealerships. Maruti Suzuki is the undisputed leader in the market with a share of over 40 per cent.
But as buyers move up the value chain, the company finds itself up against a serious image problem: it is perceived as a maker of fuel-efficient and easy-to-maintain cars. While crucial in the entry-level small-car segment, these attributes put off a premium buyer who wants to make a lifestyle statement.
And Indians are surely and steadily moving to bigger and feature-driven cars. The rising popularity of crossovers and sports utility vehicles is a clear indication of that trend. It is heartening to see that Maruti Suzuki is thinking long term.
You will seldom find a company with such dominance of the market tinkering with the formula that has served it well.
Maruti Suzuki deserves full credit for this course correction. As I see it, Maruti Suzuki had boxed itself into a corner. Remember its Kitna deti hai campaign?
It talked of India's obsession with fuel efficiency. Though lauded for its creative work, it straitjacketed the company as a maker of fuel-efficient cars. Perhaps the campaign came a bit too late.
Bigger cars had started to gain serious traction in the market. So it was unwise of Maruti Suzuki to pitch fuel efficiency as the USP of its cars.
There was a time when such a campaign would have worked, but that age had passed. Remember Hero Honda's Fill it, shut it, forget it campaign?
It worked wonders in its initial years but lost salience after a while. The company, now called Hero MotoCorp, quietly dropped it.
In fact, none of the two-wheeler companies over-emphasises that bit now. Buyers have moved on.
It is crucial for brands to create the right image in the mind of the buyers, and the buyers keep evolving.
That's why Bajaj Auto many years ago shed its popular tagline of Hamara Bajaj because it conveyed some sort of a fuddy-duddy image of the brand, which was suicidal in current times.
Maruti Suzuki's premium push is welcome but the task is tough: examples of a mass-market brand becoming premium aren't too many.
Toyota did that transition successfully but with a whole new brand called Lexus.
Closer home, mobile phone maker Micromax has attempted to do the same with its Yu range of phones.
So wisdom would suggest that Maruti Suzuki should go premium with a whole new brand. But that can take a lot of time and money.
Maruti Suzuki wants to do it on its own, through with a new distribution channel, Nexa, and a rebranding of its cars from Maurti Suzuki to Suzuki.
In Maruti Suzuki's defence it can be said that the new cars that it wants to sell through Nexa are unlikely to be priced in an altogether different league - that would have required a different brand strategy.
The S-Cross crossover, the first car to be sold through Nexa, is a high-volume product.
Maruti Suzuki has given Nexa franchises to only existing dealers.
Some may feel that it should have gone for a whole new set of dealers, especially those who have some experience of selling luxury.
That would have been necessary had it launched cars to rival those of Audi, BMW and Mercedes-Benz.
But its rivals in the premium space are Honda, Hyundai and Toyota. Nexa is good enough to take them on.
Choosing Nexa dealers from its existing pool of dealers is wise for another reason: had this not been done, there would have been a hierarchy of dealers - some kind of a caste system which would have caused serious heartburn amongst the existing dealers.
The dealers who are unable to join the Nexa network too have been taken care of: they will get a commission on all buyers they refer to Nexa dealers, and, at least in the initial few months, they will service the cars sold at Nexa.
An open secret of the car industry is that there is little money in retail - real profit comes through service and spares.
The challenge before Maruti Suzuki will be to make Nexa profitable as quickly as possible, especially because these will have to be at prime locations and look upscale.
At the moment, only one car, the S-Cross, is being sold through it. The pool needs to widen quickly, though there is talk that the company may add its premium sedan, the Ciaz, to it.