Large number of buyers has put purchases on hold because of a combination of factors, including high fuel prices, higher insurance cost, and firm interest rates.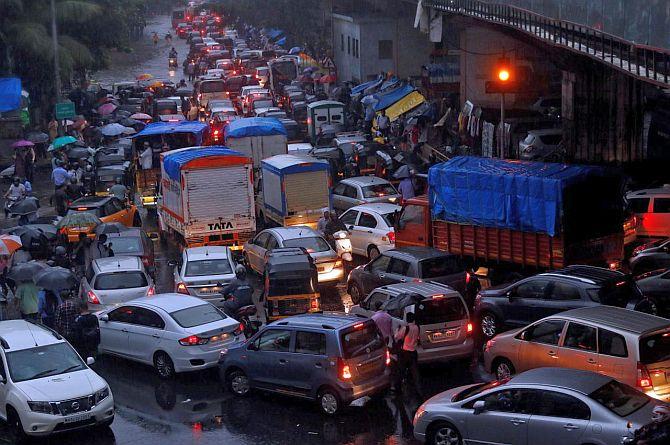 The sale of passenger vehicles (cars, utility vehicles, and vans) in the domestic market remained under pressure in November, with the industry posting a decline of more than 3 per cent.
This is the fourth monthly decline in the industry's dispatches to dealerships since July as retail sales remained under pressure even in the festive months.
Large number of buyers has put purchases on hold because of a combination of factors, including high fuel prices, higher insurance cost, and firm interest rates.
Data released by Society of Indian Automobile Manufacturers (Siam) for November shows passenger vehicle (PV) sales declined 3.43 per cent to 266,000 units.
Within the PV segment, the biggest sub-segment of cars reported a marginal drop of 1 per cent to 179,783 units.
Utility vehicles, which were until recently the fastest-growing sub-segment, declined more than 10 per cent to 69,884 units.
Vans, the smallest sub-segment, posted a marginal growth of 0.83 per cent.
PV sales had risen 1.55 per cent in October, snapping three months of consecutive decline.
In July, August, and September, PV sales have fallen by 2.71 per cent, 2.46 per cent, and 5.61 per cent, respectively.
"We have been witnessing flat growth in PV sales for the past couple of months because of high interest rates and rising fuel prices.
"However, fuel prices have started to come down and we expect to see its positive impact going ahead," Vishnu Mathur, director general at Siam, said.
According to Mathur, the November decline is the outcome of inventory correction efforts by companies who has stocked dealerships in anticipation of a strong festive season demand.
He said it was going to be a challenge to end the year with high double-digit growth in case of PVs. Growth in the first eight months of FY19 stood at 4.9 per cent.
Dispatches of two-wheelers, the largest segment of the domestic automobile industry by volume, expanded at 7 per cent to 16,45,791 units in November.
Like in the preceding months, growth in two-wheelers, was driven by motorcycles.
The sales of motorcycles expanded more than 9 per cent to 10,49,659 units last month while scooters grew at a lower rate of 3 per cent to 521,542 units.
"Three consecutive years of good monsoon have led to a strong demand coming from rural markets for motorcycles, which is driving the sales growth to a large extent," Sugato Sen, deputy director general at Siam, said.
The sales of commercial vehicles grew 5.71 per cent to 72,812 units in November primarily because of an expansion in volume of light commercial vehicles (LCVs).
LCVs, which provide last mile connectivity, grew at 17 per cent to 47,449 units.
The medium and heavy commercial vehicles, however, declined by 11 per cent to 25,363 units.
Mathur said the high diesel price had squeezed margins of transporters and this, along with liquidity challenges, caused postponement of purchases.
Three-wheelers also declined more than 11 per cent to 53,401 units.
Overall automobile industry volumes grew by 5 per cent to 20,38,015 vehicles.
Sridhar V, a partner at Grant Thornton India LLP, said the automobile sector had shown growth of 5.1 per cent in November, primarily because of expansion in two-wheelers and LCV sales.
"The PV segment has shown negative growth and festival sales have been a letdown.
"A strain is visible caused by multiple factors most important of which is the increase in cost of financing and the availability of finance from NBFC."
Photograph: Shailesh Andrade/Reuters