Close to half a dozen more three-row premium mid-size models are expected to hit the road over the next two years.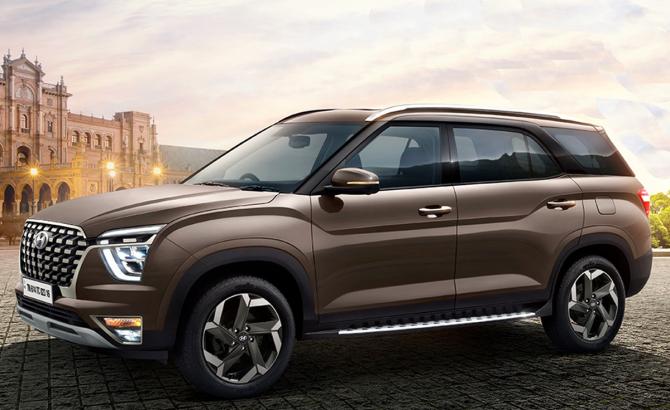 Three-row sport utility vehicles (SUVs) are emerging as the next battleground for passenger vehicle makers.
Indians are heading out for drivable leisure destinations with friends and families a lot more frequently to shrug off the Covid-19 blues.
The SUV body type, therefore, is finding favour among the upwardly mobile.
Taking a cue, automakers are lining up new launches aimed at weaning buyers from the premium sedan segment. They are also looking to upgrade mid-size SUV owners.
A case in point is Hyundai Motor India, which has launched the Alcazar, giving an option to Creta owners to notch up.
Hyundai has priced the three-row SUV offering with six- and seven-seat configuration at a premium.
While the cheapest version of the Alcazar in the petrol variant is priced at Rs 16.3 lakh, higher than its rivals, the most premium six-seater diesel version is priced at Rs 19.99 lakh, significantly higher than the existing models.
Tarun Garg, director, sales and marketing, Hyundai Motor India, though defended the premium pricing, pointing out that the latest offering comes loaded with bells and whistles and boasts a lengthy list of features, some of which are the first in the segment.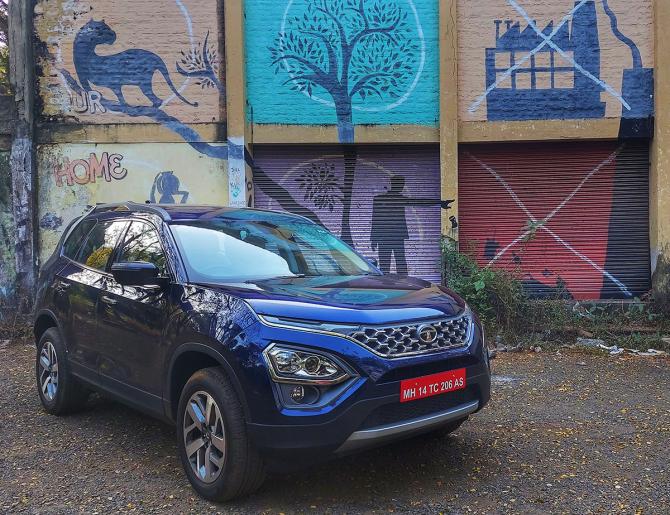 That's not all. Close to half a dozen more three-row premium mid-size models are expected to hit the road over the next two years, said a person aware of product plans of automakers.
Among these, while the Mahindra XUV700, Jeep Compass 7-seater is expected to go on sale this year, similar offerings from Maruti Suzuki and Toyota are expected in the first half of 2022. Also in the works is a seven-seater version of the Seltos.
Models with three rows and six- and seven-seat configuration presently account for a third of the SUV market (includes multipurpose vehicles like Ertiga and Innova) and are expected to double in the next three years, according to Puneet Gupta, associate director at IHS Markit.
In the overall passenger vehicle market, the share of such models is 10 per cent, he said. "The need for bigger vehicles will fuel sales," he said.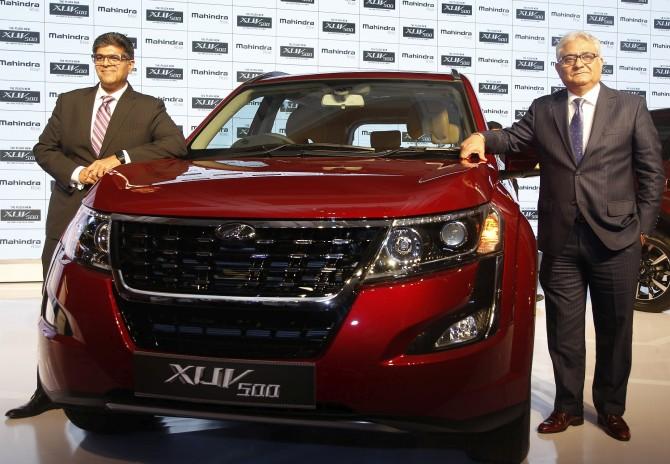 Even the broader SUV market has been on an upswing.
More than one in every two passenger vehicles sold in the month of May in India was an SUV, against one in three that got sold in the same month in 2019, according to the Society of Indian Automobile Manufacturers.
The sharp shift reflects a strong preference for the segment in the personal mobility space and a growing traction for drivable destinations amid the pandemic.
Garg pointed out that Hyundai's market research showed there was a huge demand for the third row as more families were going on vacation to nearby destinations in order to avoid travel by flight or train.
"With the lockdown, people want to spend more time with family, travel together in a car. If you see the trend of vacation, it was about taking a flight and flying to some international destination. Now it has changed to places within five to six hours range where they can drive with family," he said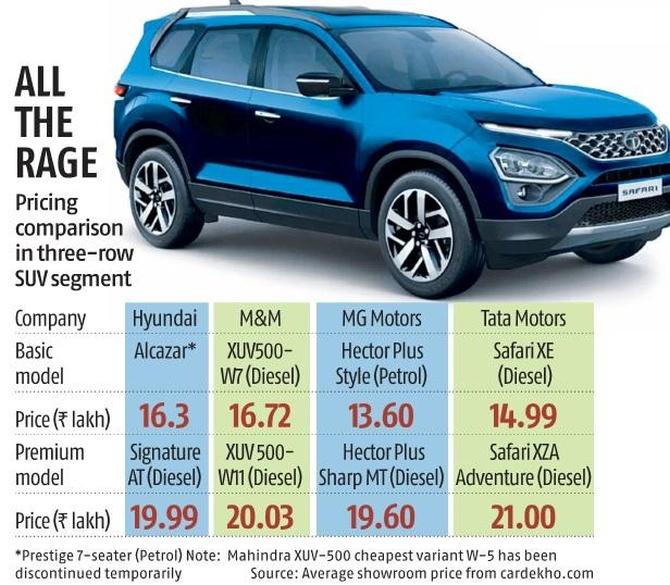 Manufacturers such as Tata Motors and MG Motors, which have derived three-row models from their existing mid-size SUVs, get 30-35 per cent of their sales for the platform from bigger variants, says Gupta from IHS, citing Harrier and Safari, and Hector and Hector Plus. It makes sense for manufacturers as well as buyers.
With Creta as the bestseller (600,000 units sold since the launch), it made sense for Hyundai to get into the three-row segment.
Many of the Creta customers are looking for an upgrade, said Garg. "They feel that they have now reached a notch higher in their life and they want to travel in luxury, they want to have premium-ness in their car, and they want a little more versatility," he said.
Riding high on Creta sales, Hyundai cornered 25.5 per cent sales in calendar year 2020 and sold 180,237 units.
Feature Presentation: Rajesh Alva/Rediff.com