Electric two wheelers require about 15-20 micro chips and sensors to perform different functions.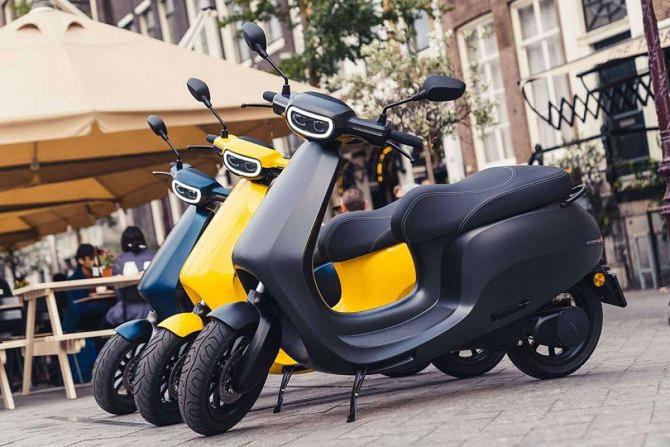 From powering mobile devices, US chip designer Qualcomm has tied up with Ola Electric to power its electric scooters.
Qualcomm is providing the key 4G connected octa core android platform which provides connectivity, computing capabilities and enables rich immersive displays with power saving software.
An Ola spokesperson, while confirming the use of a chip, declined to give specific details.
Other companies are also jumping onto the electric vehicle bandwagon in India.
US chipmaker NXP Semiconductors, technology players Tata Technologies and KPIT Technologies, global e-SIM manufacturer IDEMIA and auto components manufacturer Sona Comstar are offering electric vehicle manufacturers an array of components, software and integration technologies to help them power their electric vehicles.
NXP Semiconductors managing director in India, Sanjay Gupta, said NXP is working with all the main vehicle manufacturers.
"The key areas that we are focusing on include battery management systems, an enabling super-charging ecosystem and, powering display and connectivity," he said.
The importance of chip players in the electric vehicles space can be gauged from the number of chips needed.
Gupta says electric two wheelers require about 15-20 micro chips and sensors to perform different functions.
In cars the number can go up to 120-150 if even the seats are digitised and the boot tanker opens and closes through sensors which recognize hand movements.
Tata Technologies, for instance, is closely working with Tata Motors as well as Jaguar Land Rover (JLR) in this area.
A spokesperson confirmed the relationship, saying: "While we can't share specifics, we are collaborating with Tata Motors and JLR in most of their automotive vehicle programmes, leveraging our experience to help them develop competitive products."
The company also offers end-to-end solutions for OEMs from electric vehicle concept design to outsourced full vehicle programmes for BEVs, ICE to EC conversion as well as supply chain and manufacturing solutions for the vehicle development.
Tata Technologies has also built Tata Rapid Connected Environment, an in vehicle Internet of Things platform built for the next generation of connected vehicles.
Indian ICE component vendors are also diversifying their business to meet electric vehicle requirements and a key area is building the electric motor.
After batteries, this is the most expensive component.
Sona Comstar is working on an electric motor for two and three wheelers without magnets for the first time in India in collaboration with Israel's IRP Nexus group.
The advantage of electric motors is twofold.
One, it reduces motor weight and size and provides better efficiency and mileage.
Two, magnets are made of rare earths which are controlled by China and are not environment-friendly.
Kiran Deshmukh, CTO of Sona Comstar, says that to improve the range of electric vehicles, OEMs are looking at lightweight and efficient drive motors.
"Our unique motor designs and state-of-the-art control algorithms offer these features to our customers.
"Magnets account for a major part of the cost of the motors.
"By eliminating them, we will not only reduce the cost of the motors but free ourselves from supply chain uncertainties due to geopolitical situations," said Deshmukh.
Sona Comstar is working on a tight schedule to deliver the new product. Electric vehicle makers are watching developments closely.
Sona Comstar aims to come out with the proof of concept in eight months and commercially roll out the electric motors in 18 months.
Bangalore-based KPIT Technologies, which has global clients among the top three in Germany and the US, provides electric vehicle makers with virtually everything, except manufacturing the chips.