Tata Motors on Wednesday inaugurated the world's cheapest car, the Nano's, manufacturing facility here, nearly two years after it was forced to shift the plant out of West Bengal over a land row.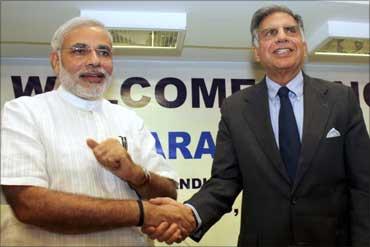 The new plant at Sanand was inaugurated by Gujarat Chief Minister Narendra Modi and Tata Group Chairman Ratan Tata, who seven years ago dreamt of making an affordable family car for the common man. "When I came here first on an industry visit, Gujarat chief minister told me that it would be stupid if the Nano plant is not in Gujarat.
"I am no longer a stupid after investing in the plant in Gujarat," Tata said while inaugurating the plant. Spread over about 1,100 acres, the plant in Sanand has been created at an investment of about Rs 2,000 crore (Rs 20 billion).
Speaking on the occasion, Modi said: "The revolution brought by Ford in the early 20th century with its small car is being replicated now by Ratan Tata with his Nano."
Every middle-class family's dream to own a car is being fulfilled at Sanand with the inauguration of the Nano plant, he added.
Ratan Tata's dream of making a car costing only Rs 1,00,000 had to face challenges -- both technical and political--ever since it was conceived in 2003.
At a time when input costs were soaring, keeping the cost of production of a comfortable mini car powered by a 623cc engine giving a competitive mileage, was a challenge big enough for the engineers of Tata Motors.
While Tatas were able to overcome it, the group was unable to beat political challenge from Trinamool Congress and had to shift manufacturing base from the original location at Singur in West Bengal to Sanand in Gujarat in October 2008.
Tatas, by then, had already put over Rs 1,000 crore (Rs 10 billion) in Singur. It delayed not only the original plans for the commercial launch of Nano by about five months, but also affected its availability.
Till the time the Sanand facility was ready, the company went ahead with limited production of Nano - touted as the world's cheapest car with a factory gate price of Rs 1,00,000 (little over $2,000) - from Pantnagar in Himachal Pradesh. Bookings for the car opened in April 2009 and deliveries began in July that year. It has so far delivered over 35,000 units.
However, only the first 1,00,000 customers are assured of getting the car at an ex-factory price of Rs 1,00,000.
The Sanand facility has the capacity to manufacture 2,50,000 units annually, which can subsequently be increased to 5,00,000 units per annum. Pilot commercial production of Nano at Sanand has already begun.
Image: Chairman of Tata group Ratan Tata (R) shakes hands with Gujarat's Chief Minister Narendra Modi. | Photograph: Amit Dave/Reuters