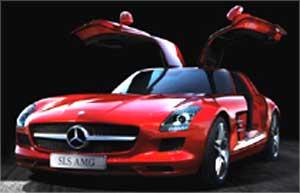 German car maker Mercedes on Friday launched a super sports car SLS AMG in India, priced between Rs 2 crore (Rs 20 million) and Rs 2.5 crore (Rs 25 million).
"We are very excited to come with SLS in India. We have started the production couple of weeks ago in Germany, there is no time lag to launch the vehicle in India," Mercedes Benz India Managing Director and CEO Wilfried Aulbur told reporters in New Delhi.
There will be a waiting period of 6-8 months after the booking, he added.
The SLS AMG is powered by a 6.2 litre engine and it can go up to a maximum speed of 317 km per hour.