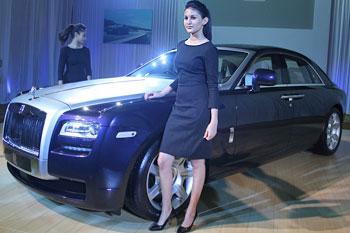 Rolls-Royce expects to sell a total of 50 units this year in India including the newly launched Ghost 2010 series, its authorised dealer said on Thursday.
"We are getting overwhelming response for the car in the country. It would take normally 2-3 months time for the delivery of the car after the firm order. We expect to sell 50 units this year," Sharad Kachalia, director, sales and marketing, Navnit Motors, the authorised Rolls Royce dealer for West and South region, said.
Also, the demand for the car is slowly shifting from royal families to young entrepreneurs who are successful in their ventures, Kachalia told media persons in Hyderabad on the sidelines of Rolls Royce-Ghost launch in Andhra Pradesh.
He said around as much as 90 per cent of the 700 Rolls, which were imported to India during pre-independence days are still running on roads even after 60-70 years.
Kachalia said Praja Rajyam Party chief Chiranjeevi and his actor son Ram Charan have evinced interest in Rolls Royce.
"I personally met Chiranjeevi and his son. However, we cannot say at this time whether the deal can be closed positively," he said.
Rolls Royce Ghost is priced between Rs 2.5-Rs 2.7 crore (Rs 250-270 million) in India. This year, the British car maker has already sold around 30 units in the country.