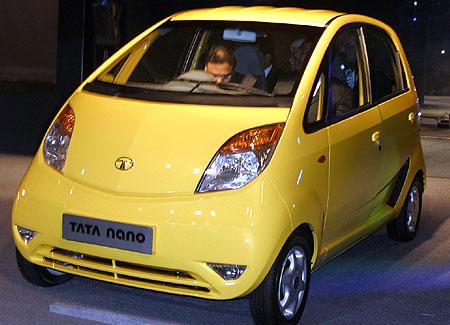 Tata Motors Ltd (TML) plans to roll out new cars, other than the Nano, from its manufacturing unit in Sanand, Gujarat in near future.
The Tata Group company is in discussion with the Gujarat government in this regard as the current agreement between the two only allows manufacture of Nano car at the Sanand facility. As per the agreement the incentives given to the company in form of soft loan have been calculated based value added tax (VAT) paid on sale of Nano cars.
Around 1,100 acres of land in Sanand was allotted by the state government to Tata Nano at Rs 900 per square meter in 2008.

Later, the Gujarat government, in 2009, decided to provide fiscal incentives to TML in the form of a loan at 0.1 per cent simple interest per annum for amounts equal to the gross VAT and Central Sales Tax (CST) payable to state government on the sale of the Nano car and its parts and components from the date of commencement of the sale of the Nano car. As per the government decision this loan would be repayable in monthly installments starting from the 21 st year of the commencement of first sale of Nano car.
"The Sanand plant has been developed as a world class facility. It is an important part of all our future plans," said Girish Wagh, senior vice president, programme planning and project management-PVBU. Wagh was speaking on sidelines of launch of its new compact sedan 'Zest' in Ahmedabad.
"We have our product portfolio defined till 2020. And definitely some products would roll out from the Sanand plant," Wagh said. With regard to the state support agreement (SSA) that only allows manufacture of Nana car at the Sanad plant, Wagh said, "(For the SSA) we are in discussion with the Gujarat government and the talks are going on in a good environment."
He however, declined to give figures for roll out of new product from Sanand plant. "The plans of the company are fluidic for 3-4 years so I cannot put any figures as of now," Wagh said, adding, there was no immediate plans to roll out new product for Sanand.
Tata Motors' Sanand plant has an installed capacity of 250,000 cars per year, of which it was currently utilising only 25 per cent. Wagh said that the inventory for the Nano car at Sanand plant has significantly come down since last year. He however, declined to divulge the size of inventory.
The Nano plant in Sanand was closed for about 45 days last month for routine maintenance and bringing down the inventory. The company has also modified the assembly line for new variants of Nano car which has some changes in the body as wells a engine. Tata motors will soon roll out Nano with automated manual transmission (AMT).