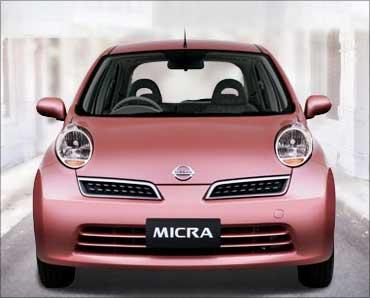 Japanese car maker Nissan said on Monday the Indian market will not be impacted by the global recall of nearly 2.5 lakh units, although over 9,600 Micra cars produced at its Chennai plant for Europe will be covered.

"Nissan has identified that fuel rail pressure sensor used in direct injection type engines of some of its models may have a problem. Therefore, Nissan has taken a proactive step to recall and replace the sensors on priority," a Nissan Motor India Private Ltd spokesperson said.

As part of this exercise, the company has decided to recall over 9,600 units of its small car Micra, which were produced in India in 2011 and sold in Europe, the official added.

"However, Micras sold in India are not part of this recall campaign," the spokesperson said.

Last week, the company announced to recall 2,49,522 vehicles of seven different models across the world because of a loose sensor that could cause fuel leaks in the worst cases.

The models included Serena, Patrol, Infiniti M and Infiniti QX that were produced in Japan.

The recall will also cover the Juke from Japan and Britain, the China-made Tiida and the Micra made in India.

Of the total, 92,679 recalls were in Japan.

However, the company claimed that the problem had not caused any accidents anywhere in the world.

"Nissan accords utmost care to its customers.

"This proactive step, without any financial burden to its customers, is a testimony of how much Nissan cares for customers' safety and security," the NMIPL spokesperson said.


Image: Nissan Mirca
Click Here For Rediff Realtime News On February 28 Strike