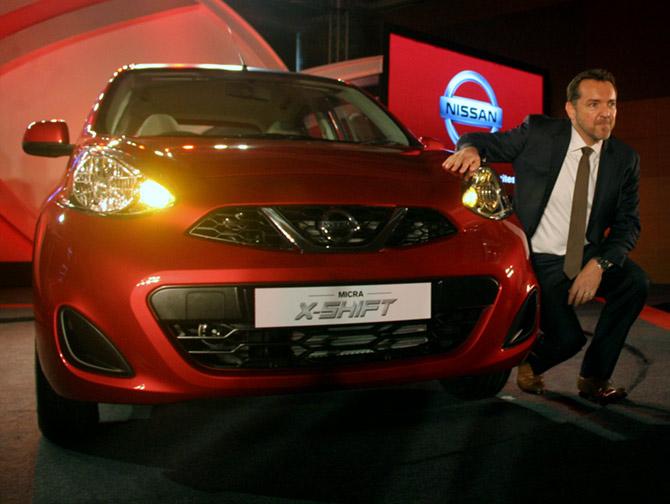 Leading global carmakers are reviewing their blueprint for India to boost sales and avoid more painful cutbacks, after struggling to win over consumers even as the market swings to growth and dominant local players begin to raise prices.
Automakers like General Motors, Nissan Motor Co and Renault SA have over the past weeks announced hundreds of job losses.
Some have already reduced output, and industry analysts expect more to come.
Others, like Skoda Auto, part of Volkswagen AG, are retreating to their roots - for Skoda, "premium" cars.
"India is not the most easy market in the world to crack," Guillaume Sicard, president of Nissan India told Reuters after the company said it would cut "hundreds" of jobs at the Renault-Nissan alliance plant in south India.
The Indian market is showing signs of recovery.
After a return to growth in the year to March 2015, this year every month has seen sales improving.
But the benefit is being felt mainly by India's dominant players like Maruti Suzuki India Ltd. Maruti in July reported its market share was once again above 50 per cent, its highest in more than a decade.
Passenger car sales in India rose 5 per cent in the year to end-March, but global carmakers Renault, GM, Volkswagen, Skoda and Ford reported a double-digit decline, industry data showed.
In contrast, Maruti and Hyundai Motor Co sales rose 11 per cent. Now Maruti and Hyundai, India's two best selling brands, are turning up the competitive heat - entering the one segment companies like Renault, Nissan and Ford Motor Co had dominated: sport-utility vehicles (SUVs). Maruti recently launched a sedan-SUV crossover and Hyundai, the Creta SUV.
No sales surge
Lured by a large customer base and low car penetration, automakers built large capacity in India expecting a surge in sales: India will be the world's No 3 car market by 2020.
Instead, they were undone by their lack of small models, a sparse dealer network and steep aftersales service costs.
Nissan introduced its inexpensive Datsun-branded cars last year but failed to ramp up sales given a lack of dealerships in smaller cities, where demand for such cars is high.
And consumers' hesitance to make big purchases during a sluggish recovery has made a bad situation worse.
"They looked at India as one of the markets they need to be in, but India is a very different kind of market," said Abdul Majeed, automotive head at consultant Pwc.
"They thought if they bring the car at a good price, people will buy. It is not just about the initial price, it is also fuel efficiency and the whole cost of ownership," he said.
Nissan and Renault say they will compete with new models, especially small cars, and by growing their dealer network.
GM, which announced plans to stop production at one of two plants in the country last month, is betting on 10 new locally-made models over five years.
GM will ramp up exports as well, joining Volkswagen and Ford, which are also targetting the domestic market with new compact cars.
For Skoda, plans revolve around launching three premium sedans in India next year and increasing the proportion of local engineering to drive down costs.
"Multinational companies tend to operate the same way worldwide," said Skoda India Chairman Sudhir Rao.
"We are trying to develop more of a hybrid approach between Asian engineering and European quality."
Photograph: Sanjay Sawant/Rediff.com