Global tyre major Michelin today said it may consider making passenger car tyres and set up a new plant in India after 2015 if the market demand then is good enough to sustain a large plant.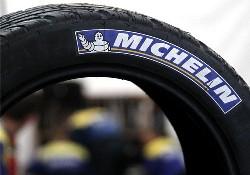 At present the firm sells passenger car tyres in India sourced out of South East Asia, mainly catering to the after market, priced between Rs 2,000 to Rs 5,500.

It is waiting for more infrastructure development in the country to consider setting up of a big plant.

"As soon as we see more infrastructure growth, that is the time we will put a plant in India (for passenger car tyres)," Michelin President, Passenger and Light Truck Tyres Worlwide, Florent Menegaux said.

Asked about possible timelines, he said: "...that will be after 2015, when the question has to be asked in India. If the infrastructure grows more rapidly, we will move fast in India. It all depends on the market opportunity. Today the market is not big enough to sustain a big plant".

He said at present the Indian passenger car tyre market is fast growing but the base is very small and the level of infrastructure development is not sufficient despite the rapid growth to support a good car market.

"So we are developing our distribution network in India (at the moment) and we are waiting for the development of the infrastructure...so that when the vehicle part develops then we will certainly invest in a (car tyre) plant," Menegaux said.

He said Michelin is also focusing on brand building in India although the main investment is in distribution.

Michelin is currently investing Rs 4,000 crore (Rs 40 billion) to set up a truck and bus tyre plant in Chennai, which will be operational by next year.

It will have an initial annual production capacity of three lakh truck and bus tyres. "We have investment in a truck plant..the truck segment is currently more developed than the passenger car at this stage," he said.