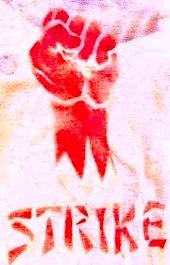 Pradeep, 24, carries his payslip at all times. When we met him outside gate No. 3 of Maruti Suzuki's Manesar plant, he showed us his earnings for September -- a negative salary of Rs 3,880.

Pradeep is not alone.

Most of the 2,000-odd protesting workers have earned a quarter of their salary in the four-month stand-off with the management.

But the financial adversity has not dissuaded them, as most have other means of sustenance.

Manoj Kumar,25, a permanent worker from Jhunjhunu, said, "I have earned only Rs 16,000 since June, whereas I should have got at least Rs 64,000 in normal circumstances.

"My family isn't complaining, as my father who is in government service takes care of the household."

For most workers -- aged between 22 and 27 and fresh out of industrial training institutes, Maruti is their first job.

Coming from families with multiple working members, most do not have the pressure of sending money back home.

"I get Rs 6,500 a month. My family has agricultural land in UP. I am the youngest of the four brothers all of whom are employed.

"They are sending me around Rs 2,000 to take care of my monthly rent," said Mohammad Gyassuddin, a contract worker.

Others also agree salary is not an issue. They say the demand for increasing salary would be raised once the present strike ends.

"I am working here for three years and was about to become permanent. At any other place, I would have to start all over again.

"Some of
us who looked for jobs in other factories were not admitted because of the labour unrest. We want matters resolved here," said Balwinder Singh from Karnal.
Mathew Abraham, who steered the three-month strike at Maruti in 2000 and is guiding the leaders of the present protest, says the young age of workers would make all the difference to the present unrest.
"In 2000, most workers were middle-aged and had families to support. The management was able to end the strike by tempting the workers to accept a favourable voluntary retirement scheme," Abraham said.
The workers don't have much experience, so they have nothing to lose in the present protest, according to him.
The workers say the protest isn't sporadic, but has been building for years.
According to them, the eight-hour shift they are required to work usually gets extended by an hour.
Maruti provides a 30-minute lunch break, 10 minutes of which goes in travelling to the canteen.
A seven-minute break is given for tea and using the bathroom.
"I took a day off to attend my brother's wedding.
The next day I was asked by the supervisor to submit my gate pass and Rs 1,200 was deducted from my salary," said Suresh, a contract worker from Rajasthan.
"Can you run 2 km, have hot tea and come back in seven minutes?" Amit Kumar, who works on the production line, said he asked his production head. "He had no answer."
Naturally, say the workers, protest for a union was the only option left for them. Maruti refutes these allegations and says the workers are treated fairly.