Country's largest car maker Maruti Suzuki India on Friday reported 79.4 per cent jump in its standalone net profit for the quarter ended March 31 at Rs 1,147.5 crore (Rs 11.47 billion), mainly on the account of good sales of models like Ertiga, DZire and Swift.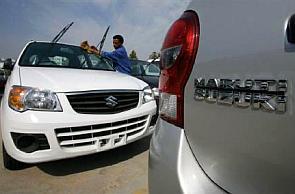 The company had registered a net profit of Rs 639.8 crore (Rs 6.39 billion) during the corresponding period last year, Maruti Suzuki India (MSI) said in a statement.

The company's standalone net sales during the fourth quarter of the last fiscal went up by 9.4 per cent to Rs 12,566.6 crore (Rs 125.66 billion) from Rs 11,486.4 crore (Rs 114.86 billion) in the year-ago period, it added.

During January-March period, MSI sold a total of 343,709 vehicles, down 4.6 per cent from 360,334 units in the same period last year.

Commenting on the numbers, MSI said: "The increase in net profit during the quarter was on account of higher sales of new models such as Ertiga, DZire and Swift; cost reduction and localisation efforts, and the benefit of a favourable exchange rate."

For the entire 2012-13 financial year, MSI posted a rise of 40.7 per cent in its standalone net profit at Rs 2,300 crore (Rs 23 billion) as against Rs 1,635.1 crore (Rs 16.35 billion) in the
previous fiscal, the statement said.
The company's standalone net sales went up by 21.4 per cent to Rs 42,122.9 crore (Rs 421.22 billion) in FY'13 from Rs 34,705.9 crore (Rs 347.05 billion) in FY'12, it added.
Total vehicle sales of the company during last fiscal fell by 3.3 per cent to 11,71,434 units from 11,33,695 units in 2011-12.
During its meeting today, the Board of Directors recommended a dividend of 160 per cent, which is Rs 8 per share of face value Rs 5 for 2012-13. The dividend in 2011-12 was at 150 per cent, the statement said.
In 2012-13, engine maker Suzuki Powertrain India Ltd (SPIL) was merged with MSI.
Considering the performance of SPIL, MSI's standalone net profit during the fourth quarter stood at Rs 1,239.6 crore (Rs 12.39 billion), while the net sales was Rs 13,056.3 crore (Ras 130.56 billion).
Likewise, MSI posted a standalone net profit of Rs 2,392.1 crore (Rs 23.92 billion) for 2012-13 and net sales of Rs 42,612.6 crore (Rs 426.12 billion) in the same fiscal after combining the figures of SPIL.
For the last fiscal, the consolidated net profit stood Rs 2,469.3 crore (Rs 24.69 billion). MSI registered a consolidated net sales of Rs 43,215.8 crore (Rs 432.15 billion).
Shares of MSI were trading 5.36 per cent up at Rs 1,674.90 apiece on BSE during afternoon.
© Copyright 2022 PTI. All rights reserved. Republication or redistribution of PTI content, including by framing or similar means, is expressly prohibited without the prior written consent.