The country's largest maker Maruti Suzuki India Limited (MSIL) has bagged 6000 pre-launch bookings for the new upgraded Alto 800.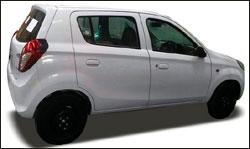 The numbers are in sharp contrast to the demand the company's premium hatchback Maruti Suzuki Swift had seen prior to its launch in August last year. The Swift had notched up a whopping 50,000 units in pre-launch orders.
"The response is pretty good given the current market conditions. With the 'shradh' period ending on Sunday, the numbers will pick up", said a senior executive at MSIL. Sources in the company indicated bookings are expected to increase to 10,000 units before the launch of the new Alto 800 on October 16.
Alto, which has been the best-selling car on Indian roads for eight straight years now, has seen sales slowing in recent times due to waning demand for petrol cars. Average monthly sales of the car have declined to around 18,000 units between April and September this financial year from over 25,600 units sold every month in 2011-12.
Manohar Bhat, vice-president (marketing), MSIL said, "Sales of Alto have been impacted due to the increasing preference for diesel cars. I am sure after the launch of the new model sales would not only go back to the original levels but we will also gain incremental volumes."
Petrol is 45 per cent more costlier than diesel which has made an increasing number of consumers opt for diesel vehicles despite an initial premium of Rs 1-1.5 lakh payable on diesel models. Latest industry data available show between April and July this fiscal, while sales of diesel vehicles have increased by 54 per cent to account for 57 per cent share in the passenger vehicle market, those of petrol models have declined by a fifth in the period.
Maruti Suzuki sells Alto in two avatars - sporting 800 cc and a 1000 cc K - series engines. As much as two-thirds of the sales come from the 800 cc version, which is now going to be replaced with the upgraded model. The new Alto 800 delivers a mileage of 22.7 kmpl, which is 15 per cent more than the fuel economy offered by the outgoing model.
The new car has 15mm more leg space and 15 mm more head room which will now come in a sportier package.
Maruti Suzuki has invested Rs 470 crore along with its vendors on the new car which is expected to revive the company's sagging fortunes in the small car segment. According to data available with industry body Society of Indian Automobile Manufacturers (SIAM), while sales of cars in the mini segment (with length less than 3600 mm and engine displacement up to one litre) have declined by 16 per cent to 249,344 units in the first six months of the fiscal, Maruti Suzuki's volumes in the category have fallen by 21 per cent.
The company's market share in the segment has dropped by five percentage points to 74 per cent in the period. Rival Hyundai Motor has been the gainer in the period who with the Eon has increased its share to 24 per cent till September this fiscal as compared to 16 per cent recorded in the corresponding period last year.
© Copyright 2021 PTI. All rights reserved. Republication or redistribution of PTI content, including by framing or similar means, is expressly prohibited without the prior written consent.