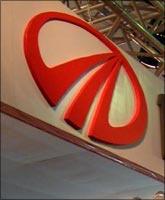 Auto and farm equipment major Mahindra and Mahindra on Wednesday said its US-based subsidiary will open a new assembly and distribution centre by the end of this month.
"A new assembly and distribution point will be open in Chattanooga TN USA from December 31, 2009," M&M said in a filing to the Bombay Stock Exchange.
The new assembly and distribution plant would take the place of Mahindra USA's Calhoun GA facility, it said.
The filing also said that Mahindra USA has shifted its North American headquarter to Houston from Tomball, Texas.
"Our primary goal was to ensure a smooth transition as we bring the Chattanooga distribution point on-line. We are pleased to announce that the product availability and services levels that our dealers have been accustomed to, will continue unaffected," Mahindra USA VP of marketing and organisational development Mike Hilderbrand said.
A total of 14 employees would be affected by the transition to the new assembly and distribution point in Chattanooga TN, the filing added.
Mahindra USA is a wholly-owned subsidiary of Mahindra and Mahindra and a part of M&M farm equipment sector. It started operations in 1994 and has three distribution points in the US to help meet the needs of its customers.