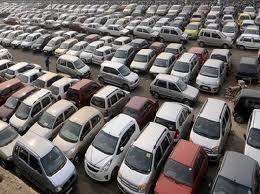 After he got a salary increment in April this year, Ravi Madhav, a Mumbai-based media professional who used to move around with his humble automatic scooter, decided to buy a hatchback for his family of four.

Like most others, Madhav scanned the internet and turned to friends and acquaintances for advice before narrowing down his choice to a handful of models.

With a budget of Rs 450,000 he could have picked one from the wide variety of best-sellers such as Hyundai i10, Maruti WagonR, Maruti Alto K10, Hyundai Santro or Hyundai Eon.

However, Madhav did the next best thing: he bought the Linea, a five-seater mid-size sedan from the Italian company Fiat.

He could also save Rs 100,000 as it cost much less than his earlier budget.

The car was two years old but was as good as new. Although Madhav bought it from an outlet for used cars, he got all the bells and whistles a new car owner would get, such as warranty and insurance.

Madhav is among the large chunk of vehicle buyers who are fuelling the growth of the used-car sector.

The strong domestic growth for new vehicle sales during 2008-12, which witnessed a compounded annual growth rate of 14 per cent, led to an increased inventory of used cars, thanks to trade-ins.

Several such trade-in cars are refurbished, thoroughly checked and put on sale usually with a warranty by organised players.

Strong bargaining skills can fetch a used refurbished car low mileage at less than half its original sticker price.

This is because of increased supply led by reduction in the average period owners hang on to their cars.

Till a few years ago, people used to keep their car for about five years on average. This has now come down to about three years.

According to estimates, used-car sales in India at 3.22 million vehicles are 1.2 times the sales in the new-car segment.

Last year, according to data by the Society of Indian Automobile Manufacturers, India witnessed sales of 2.68 million units of the new passenger vehicles, including cars, utility vehicles and vans.

This ratio is changing further in favour of the used car industry over the next five years.

The used car market will be double the size of the new car market by 2018, according to estimates.

Several of the used car buyers, according to dealers, are first time car owners as well as those who wish to have a second car in the family.

According to Mahindra First Choice Wheels, 80 per cent of its buyers choose a model from the B or C segment, whereas only five per cent choose the A and A+ segment.

The balance comprises the D and E segment.

The used car industry is a
mirror reflection of the new car market.
Maruti Suzuki dominates the used car demand with consumers rushing for proven Maruti Suzuki models such as Wagon R, Swift and Alto and Hyundai models like Santro, i10, i20.
Rajeev Dubey, president (Group HR, corporate services and after-market) at Mahindra & Mahindra, said: "For a used car buyer, the quality of the car and the price of the car are the two main things.
A second-hand car buyer is not a second class buyer.
For him, it could be his first car. The market for used cars in India is huge."
A large part of the used car market is unorganised, led by deals within friendship circles, within families or by roadside dealers.
At present, only 18 per cent of the market is controlled by the organised sector. It was 11 per cent five years ago.
The entry of new players is expected to increase the share of organised market.
For instance, former managing director of Maruti Suzuki, Jagdish Khattar, who had floated Carnation Auto, a multi-brand used car brand, is all set to open 200 showrooms by 2015-16.
"There is a huge growth in the used cars industry in the last few years, compared to the new cars segment.
"With the entry of more organised players in the segment it will further increase and we are set to tap this potential," said Khattar.
Mahindra First Choice Wheels, the largest multi-brand used car company, for instance, is adding 100 outlets per year to tap into the growing demand.
From 350 outlets by March next year the company will increase the count to 1,200 outlets across the country by 2019.
From a targeted 65,000 units sales this year it is targeting more than 100,000 units sales by 2015 with 500 outlets.
The underlying potential of the used car industry has attracted financial investors as well.
Private equity and venture capital fund companies such as Gaja Capital, Premji Invests, IFCI Ventures and Phi Advisors have made investments in MFCW and Carnation Auto.
MFCW, which is depending on Mahindra & Mahindra for finance, is contemplating an initial public offering.
This is also to provide an exit to the five-year-old PE investor Phi Advisor, which has picked up a 10 per cent stake in the company in 2008 for Rs 80 crore.
MARKET FOR OLD HORSES
WHAT MATTERS: Quality & price of the used car
WHO THE BUYERS ARE: First-time buyers, those who want a second car in the family
WHERE THEY BUY FROM: Mostly from friends, relatives or roadside dealers. Only 18 per cent market share with organised players currently
MARKET SIZE: Used-car sales in India at 3.22 million vehicles or 1.2 times new-car sales
WHAT THEY BUY: 80% choose a model from the B or C segment