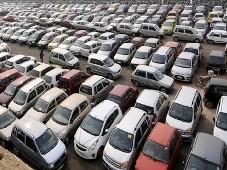 The Indian auto industry, which is facing demand slump in recent months, today gave a lukewarm response to RBI's decision to reduce short-term lending rates, saying the sector needs a cut of at least 100 basis points.

"The 25 basis points cut is nothing, we need at least 100 basis points reduction," Society of Indian Automobile Manufacturers Deputy Director General Sugato Sen told PTI in New Delhi.

Although the RBI's move to slash the short-term lending rate or repo rate twice by 0.25 percentage points each in two months is a positive step, but it is unlikely to revive the sales immediately, he added.

"It is a too slow a pace. . . We are reaching a desperate step, we need policy support," Sen said.

Even as RBI on Tuesday cut the repo rate to spur growth and revive investment, it sounded a note of caution on further easing of rates on account of high food inflation and current account deficit.

As per SIAM data, the total sales of vehicles across categories registered a decline of 5.45 per cent at 14,51,278 units in February 2013 as against 15,34,910 units in the same month of 2012.

Reacting to RBI's rate cut proposal, General Motors India Vice President P Balendran said: "This is a marginal decline.

"We were expecting at least 50
basis points cut as inflation has moderated. . .we were expecting CRR cut as well."
The rate cut will hardly make any positive impact on vehicle sales in the country, he added.
Toyota Kirloskar Motor Deputy Managing Director and COO (marketing and commercial) Sandeep Singh said the industry will wait and watch as to whether this rate cut will help positively or not in the coming months.
"This is obviously a good move for the industry. We were expecting this," he added.
Expressing similar sentiments, Honda Cars India Senior Vice President (Sales and Marketing) Jnaneswar Sen said if the banks pass on the benefit of the rate cut to the consumers of auto loans, the industry will see some revival in sales.
According to SIAM, passenger car sales in India plunged to a 12-year low in February, registering a 25.71 per cent decline to 1,58,513 units as high fuel prices, interest rates and low consumer sentiments took a toll.
With just a month left for the fiscal to end, SIAM had said that it was certain that car sales would be in negative territory in 2012-13, the first decline since 2002-03, missing the earlier forecast of 0-1 per cent rise for the ongoing financial year.
Total two-wheeler sales in February 2013 fell by 2.77 per cent to 11,12,289 units from 11,43,982 units in the same month last year.
© Copyright 2021 PTI. All rights reserved. Republication or redistribution of PTI content, including by framing or similar means, is expressly prohibited without the prior written consent.