Even though BMW has got into the expansion mode increasing its dealerships to 22 from the current 12, it still feels that the Indian market is not mature enough for its 1 series.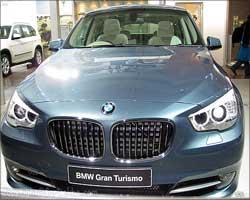 Thus, the car makers have no immediate plans of bringing the 1 series to India. But BMW is quite keen on venturing into the pre-owned cars business and as a first step it is planning an exclusive store in the Delhi- Gurgaon region.
However, this is not all as BMW recently launched its limited edition Gran Turismo, priced at Rs 63 lakh (Rs 6.3 million) and confirmed its plans of bringing the BMW X1 series to India by the year-end.
The limited edition Gran Turismo is a dream car that enthralled the onlookers at the Delhi Auto Expo. It is equipped with a 3.01 litre diesel engine and would be brought as a completely built-up unit from BMW's overseas plant.
The Gran Turismo is a shapely convergence of sedan, wagon and hatchback. The BMW describes it as blending a sports activity vehicle. The car's 120.7-inch wheelbase and 196-inch length overshadow all BMW sedans except for the 7-series.
Inside the Gran Turismo emphasis has been laid upon the experience for rear-seat passengers. Seats can both recline and slide fore and aft creating lots of legroom and maximising cargo room.
The GT's exterior has LED-powered headlights derived from the CS, while the roof-line imitates the X6. Also, the Gran Turismo can sprint at the speed of lightening and offers good fuel economy.
Powered by CarDekho.com
CarDekho.com offers the best platform in India to research cars online. Make better car buying decisions using features like car research, reviews, car comparisons, discounts, on-road prices etc. on CarDekho.com.