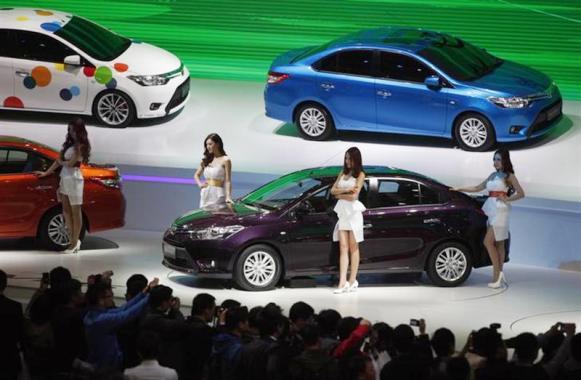 In a significant and potentially risky move in an Indian market that global automakers use as a test-bed for smaller, no-frills cars, Toyota Motor Corp is betting on pricier premium models offering better safety and quality.
The Japanese automaker has been in India for almost two decades, but has failed to displace rivals Maruti Suzuki and Hyundai Motor, which together control around two-thirds of a market skewed towards cars costing less than $7,000.
Now, Toyota aims to buck that trend by focussing on quality over quantity.
Naomi Ishii, managing director of the firm's India unit Toyota Kirloskar Motor, reckons providing dual air bags as standard features will sell core models such as the family-friendly Innova MPV and upmarket Fortuner sport utility vehicle - and help boost Toyota's 5 percent share of the world's sixth-largest auto market.
"We don't want to ... just introduce a price-competitive car," Ishii told Reuters in an interview at Toyota's India headquarters in Bengaluru's business district.
"In case we introduce a smaller car, it should have very advanced features in safety, fuel efficiency and exhaust emissions.
The price might be higher, but we can show this is the direction." Ishii, 50, was brought in from Japan last year to head up the Indian operations and form a mid- to long-term strategy for the market.
He is among the youngest managing directors, but has already clocked up decades of experience in global product strategy and pricing, and has been advising on Toyota's future plans.
As the India strategy takes shape, Toyota's two new launches in the next three years will aim at the higher end, where wealthier middle-class Indians want safety and quality rather than just a brash sound system.
People familiar with the company say Toyota will launch a compact utility vehicle and a sedan - most likely the Vios, to compete with Honda Motor's (7267.T) popular City.
Ishii declined to comment on the specific launches. Industry consultant IHS predicts Toyota could sell up to 30,000 of the sedans a year, and up to 50,000 of the compact utility vehicles.
Toyota could be shifting its focus to the premium segment ahead of introducing its mini-car affiliate Daihatsu Motor to India, said Kaushik Madhavan, automotive head at Frost & Sullivan.
"As a brand, Toyota's not expected to play in the lower segment, but it could have an offering from a different name." Toyota and Daihatsu dominate in Indonesia, another big emerging market. Ishii does not rule out working with Daihatsu to crack India's lower-end car segment, but said there are no immediate plans.
The Toyota way
Astraight-shooter, according to employees, Ishii is reinforcing the 'Toyota Way', delegating more responsibility to staff, encouraging them to set targets, identify problems and provide solutions.
Ishii sees most of Toyota's existing product range in the premium segment, and doesn't want to lose any of the company's 1.1 million customers, who, he says, increasingly want more eco-friendly and technologically advanced cars.
Some customers may want these features in smaller cars, and Toyota will address that in its future product planning for India, he added.
But N. Raja, head of sales and marketing at Toyota Kirloskar, said the company will not launch a car priced below 500,000 rupees ($7,555). Maruti's top-seller, the Alto, starts at just 250,000 rupees, while Renault has launched its Kwid mini-car priced from 270,000 rupees.
Really have to modernise
Toyota has struggled in India partly because it has been unable to make more of its parts locally, unlike Suzuki Motor (7269.T), which has reduced its costs and cut its prices.
Toyota launched its first no-frills car, the Etios sedan, in 2010 and, a year later, the Liva hatchback. In trying to control costs and keep the price low, the company was criticised for compromising on quality and finish. Sales did not take off as expected, hurting plant utilisation levels.
A wealthier population, and government plans to tighten safety and emissions rules should help Toyota, analysts say, though a shift upmarket is not without risk in a country where low wages mean no-frills cars make up some 60 percent of total sales.
"Indian consumers perceive Toyota as a brand with quality, and that comes at a cost," said Puneet Gupta, senior associate at consultant IHS Automotive.
"If Toyota is not in the mass segment ... the big risk is if the market starts growing at 15-20 percent, Toyota may not have the dealer network and supplier back-up that is required." Ishii wants Toyota to double its Indian customer base by 2020 - suggesting it will need to sell 1 million cars over the next five years.
By then, India is expected to be the world's third-largest market with annual sales of 5 million cars. Toyota sold 141,347 vehicles in the year to end-March - a fraction of the 1.2 million sold by Maruti.
Last fiscal year, Toyota turned a profit in India, ending three straight years of losses, and held on to its 5 percent market share.
"The way I see the future of the Indian car market... is that we really have to modernise," Ishii said.
Image: Models pose by Toyota cars during the 15th Shanghai International Automobile Industry Exhibition in Shanghai.
Photograph: Reuters