Component makers don't see any recovery yet, but manufacturers believe the end of poor sales is nearing its end.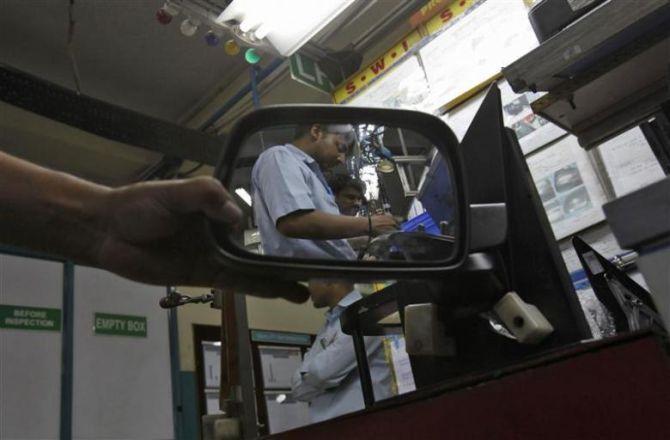 The automotive sector is split on the extent of the ongoing slowdown and when growth will revive.
Component makers don't see any recovery yet, but manufacturers believe the end of poor sales is nearing its end.
Sales have been in persistent decline for almost a year, as a sluggish economy has weighed on sentiment in one of the fastest growing markets of the world in this segment.
Passenger vehicle (PV) sales fell around 20 per cent year-on-year in the April to October period, first seven months of this financial year.
October was a bit of a relief due to last year's low base, higher demand for utility vehicles sales and steep discounts during the festive season.
PV sales showed a marginal 0.3 per cent increase in October, after continuous fall over the earlier 11 months, the Society of Indian Automobile Manufacturers (Siam) said on Monday.
For the first time in 18 years, all segments saw sales decline for two consecutive quarters.
The fall for the medium and heavy commercial vehicles has been the steepest.
Sales of such vehicles saw a 41.32 per cent decline year-on-year to 117,064 units in the first seven months of the financial year.
While makers of PVs and two-wheelers are drawing comfort from a relatively lower fall in retail sales, compared to wholesale ones, the component makers believe there is more to it than a cyclical trend.
Bosch, the largest component maker by market capitalisation, believes the current slowing to be "more structural" and that it could take three of four years for the industry to regain the volume level of 2017-2018.
Soumitra Bhattacharya, joint managing director (MD), Bosch, told investors after the September quarter earnings announcement, that "the company is undergoing a major transformation with regard to structural and cyclical changes and emerging opportunities in the electro mobility and mobility solutions segment".
To cope with the changes, Bosch initiated restructuring by introducing early voluntary retirement.
Bharat Forge, the world's largest manufacturer of forging parts, has a similar view.
"We are more concerned about the situation in India. I think that is a structural issue," said Amit Kalyani, deputy MD.
Bharat Forge supplies to almost every other commercial vehicle (CV) maker and says current inventory in the domestic medium and heavy CV industry is around 40,000 units.
These are all BSIV emission standard ones; compulsory upgrade for new vehicles to BSVI is due from April 1 and so, this inventory needs to be de-stocked completely before that date.
The outlook for 2020-21 is uncertain, it had said.
Automobile makers are more optimistic.
Pawan Goenka, MD, Mahindra & Mahindra, said an encouraging thing in the first half of the financial year was that while wholesale sales had slowed 20 per cent in the PV segment, the retail slowdown was 6 per cent.
"Therefore, it seems like a deep technical correction, which is over now," he said.
He cautioned the industry has yet to face the BSVI shock. If other conditions remained the same, sales should turn the corner by the second quarter of 2020-21, he said.
Rajiv Bajaj, MD, Bajaj Auto, had similar views.
"The pre-October retails were down only (by) single digit.
"It was the stock reduction that made it seem like the industry was hit by 20-30 per cent.
"This is why I believe we are witnessing a cyclical slowdown, not a structural one," he said, adding that one could see growth returning from January, as the base effect of 2019 kicked in.
He, too, had a caveat on the BSVI switch.
R C Bhargava, chairman at car market leader Maruti Suzuki India, said one of the biggest factors behind the slowdown is the sharp increase in acquisition cost of a vehicle.
"I don't want to be drawn into whether the slowdown is structural or cyclical.
"The industry and the government need to think about bringing down the cost of ownership."
Both Bosch and Bharat Forge have been hit hard. For Bosch, there are challenges specific to the company.
For Bharat Forge, it's the high exposure to CVs, the segment most impacted.
The transition from BSIV to BSVI standards has led to a transition away from diesel to petrol vehicles, posing a challenge for Bosch.
Further, the cost increase in the case of diesel vehicles will be much more than in petrol ones.
The expected lower offtake of diesel vehicles, where it has a significant presence, will hurt the company's powertrain division.
Bosch's September quarter earnings were well below the earlier consensus estimates.
It was dragged down by the company's automotive revenues, which dropped 29 per cent to Rs 195 crore.
Its profit before tax during the quarter fell 34 per cent.
Bharat Forge, too, is struggling.
It is running at close to 50 per cent capacity utilisation, Kalyani told investors after September quarter earnings.
Revenue during the quarter dipped by a fourth to Rs 1,679 crore, while profit before tax dropped 27 per cent.
Photograph: Adnan Abidi/Reuters