Insurance companies sell off inventory of flood-damaged vehicles to cut losses.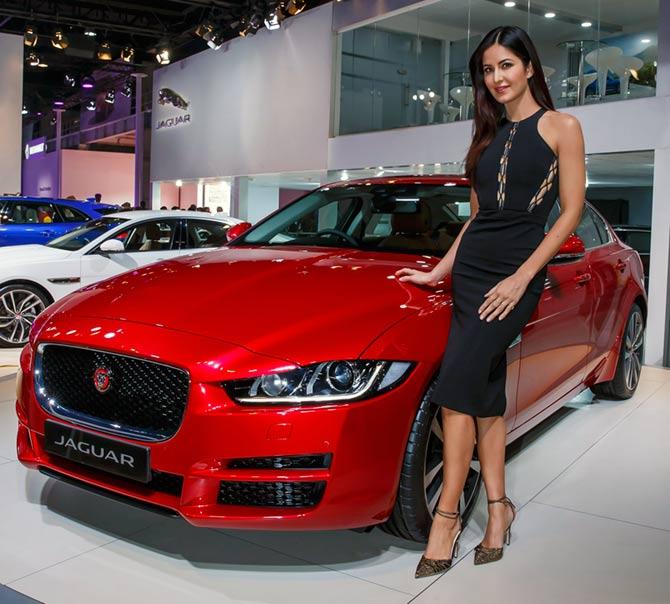 Image: The on-road value of a Jaguar F-Type is about Rs 2.2 crore. In Chennai, if you are lucky, you could get one for as low as Rs 15-25 lakh.
To have a Jag or a Merc is a dream for many. Now, the dream is coming true in Chennai, with models of luxury cars being sold at dirt cheap prices.
How? About 80,000 vehicles - including two-wheelers - were damaged during the Chennai floods in November last year.

Of these, about 20,000 were declared to be "fully damaged" and written off by insurance companies.
Now, the insurers who have acquired this inventory are selling off the cars - in the open market, and yard and online auctions - for 25-45 per cent of their insured declared value (IDV).
Car dealers from all over the country are flocking to the southern metropolis to buy these cars.
But why would someone buy a damaged vehicle?
Take an example: The on-road value of a Jaguar F-Type is about Rs 2.2 crore. In Chennai, if you are lucky, you could get one for as low as Rs 15-25 lakh.
Add the cost of refurbishment to it (about Rs 5-10 lakh), and it is still dirt cheap.
Of late, garage owners and dealers of used cars are flocking to Chennai - they comprise about 96 per cent of the buyers.
If the cars are beyond repair, they can be turned into scrap. Others can be repaired and sold off.
Dinesh Pathania, the managing director of Autoworld, a Delhi-based bulk used car dealer, is in Chennai. He said he had already bought and sold about 500 of these cars. Of these, 70 to 100 were luxury cars such as Mercedes and Audis.
"I'm expecting a batch of another 100 luxury vehicles in 10-15 days, and shall sell them to smaller traders and used car dealers," Pathania said.
The insurance companies, too, are benefiting from this sale, as it is helping them cut some of the losses.
A source in the sector said: "If a car is totally damaged, the insurance company might have to shell out as much as Rs 80 lakh - an IDV of around Rs 1-1.2 crore. In this case, there is no chance of recovering the money.
"However, if the insurance company does not pay the entire IDV to the consumer, there is hope that the car might even fetch 45 per cent of the IDV, thus offsetting the losses to some extent."
Ravi Mehra, president, auctions, CarTrade.com, told Business Standard, "The inventory of damaged vehicles (those that have been written off) is around 20,000. Considering the average price of a vehicle at Rs 6 lakh (it ranges from Maruti Alto to Jaguar F-Type), the size of the inventory is around Rs 1,200 crore."
Around 4,000 vehicles have already been auctioned off, and 400-450 vehicles are being auctioned every week, Mehra added.
Another online portal, CarDekho.com, however, pegs the number of lost assets to insurance companies at 10,000-12,000 units.
Abhishek Gautam, chief operating officer, CarDekho auctions, elaborated, "For flood-damage vehicles, there are basically in three categories: First, C-level: Water damage till floor or carpet level; second, B-level: water damage till dash-board level; and third, A-level: water damage till the roof. Depending upon the damage, cars can be sold for anything between 20 and 50 per cent of the original value."
FLOOD OF CARS
To get rid of the cars and vehicles damaged during the Chennai floods, the insurance companies are selling these off at huge discounts:
No. of cars damaged: 80,000
(including two-wheelers), totally or partially damaged
Totally damaged (written off): 20,000 cars
Already sold
About 4,000
Sellers: Insurance companies that have "written off" the damaged cars
Benefit for customers: 25-40%
Luxury cars can be bought at discounts of 25-40 per cent (of the insured value)
Facilitators: Companies that help in buying and selling old cars, such as cartrade.com and cardekho.com
Major buyers:
Used car dealers and those who modify cars