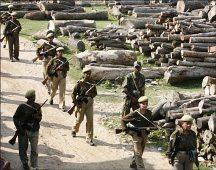 Bhima Mandavi of Pamed village in restive Dantewada district of Chhattisgarh may be struggling to find a day's meal, but regional transport office records show he is the owner of a motorcycle.
The unemployed youth in his mid-20s is not alone in the country's worst Naxal affected Dantewada.
The ultra-Leftists have apparently purchased hundreds of motorcycles in the name of youths staying in the interiors of the red zone to facilitate their movement through dense forests.
Bulk purchases of soaps and detergents (fast-moving consumer goods), too, is rising manifold. But the same is not true of consumer durables (refrigerators and television sets).
Two-wheeler sales in Naxal-infested Bastar have increased sharply in the last five years. Says Madhu Rao, an automobile dealer in Dantewada district of Bastar, "Motorcycle sales have increased 40 per cent in the last five years. It is rising five-10 per cent each year."
A leading two-wheeler company says it sold more than 6,000 units in the region in 2009-10. "More than 1,500 units were sold in Dantewada alone," says the company's senior executive, Manoj Raut.
"About 50 motorcycles of different companies are sold every month in Narayanpur," says Kamajeet Ahuja, dealer of an automobile company in the area that houses the inaccessible Abujhmad hamlet -- reportedly the red army headquarters -- where primitive tribes still live without clothes.
According to Ahuja, the dealers cannot verify the real identity of a buyer, since villagers produce relevant documents.
"We have specific information that Naxalites purchase motorcycles in the name of poor and unemployed youths, but we cannot take action, as it is hard to establish the flow of the money," says Dantewada superintendent of police Amresh Mishra.
Any step would invite the wrath of human rights activists as the villagers carry all valid papers of their vehicles, he adds.
He says in more than 50 villages of Dantewada alone, the Naxalites have either funded or financed the youths to buy bikes for them.
It is said the rebels use these two-wheelers to facilitate their movement and even escape after major strikes against security personnel.
Among the biggest buyers of FMCG goods in Bastar are the huge battalions of security personnel deployed to check Naxalism. In fact, at many places, traders are facing acute shortage of stocks.
"There is a yawning gap between demand and supply of soaps, while most of the shopkeepers are running short of stocks once every fortnight," says Champaklal Jain, a wholesaler, in Narayanpur. 
He adds that deployment of security personnel in the area has increased the demand of soaps and detergents three-fold in rural Narayanpur. In other districts of Bastar, FMCG sales have registered a two-fold rise.
According to sources in the police headquarters here, 19 battalions of the central paramilitary force, comprising 19,000 jawans have been deployed to combat the Naxalites. This, besides the equal number of personnel from the state police.
Transportation of the FMCG goods is also a smooth sail here. According to M Kumar Swamy, a trader in Bijapur district, "Salesmen of FMCG companies move freely, delivering goods from Jagdalpur, the divisional headquarters, in pick-up vans to remote insurgency-hit areas.
"The transportation may, however, be affected during bandhs called by the rebels. Traders keep off roads to avoid taking any risk." Swamy says the products are as important to the rebels as common people.
The large number of Naxalites present in rural Bastar, too, are big consumers of FMCG products.
"Generally, they purchase goods in bulk through the petty traders in the villages," says a trader in Dantewada.
Says G P Singh, a senior police officer earlier posted in Bastar, "Whether under fear or not, the small traders buy goods in bulk for the Naxalites from large locations.
"The police know that the huge quantity of goods being purchased by the petty trader of a village, which does not have the proportionate demand, is meant for the Naxalites, but we cannot do anything as it is difficult to establish the evidence."
Consumer durables, however, is the sector that is bearing the brunt of the ultra-Left in the region. 
A case in point: Vivek Sharma, a schoolteacher in Pomdum village, 25 km from Dantewada, never lives in his government quarter and, therefore, does not need a fridge or a TV set. After classes, Sharma rides back to the district headquarters, where he shares a rented room with two friends.
The fear of Naxalite terror and frequent search operations by security personnel have propelled Sharma, and most government employees posted in interior Bastar like him, to find a safe shelter in Dantewada town.
Their families have also moved out of Bastar, taking with them the demand for consumer durables.
Shiv Dangveer, a consumer durables dealer in Naxalite-infested Sukma, says: "The employees return to the nearest district or block headquarters after work to spend the night there. Since these people who can afford are not settled here, sale of consumer durables in the rural regions has taken a severe beating."
Among the tribals living without electricity in a vast portion of Bastar, the consumer durable products are of little help.
Most of the companies, too, are shunning the rural market of insurgency-hit Bastar, "since we cannot provide service in the area," says Anil Sharma, head of a leading electronics company. It cannot open service centres in the interior areas as the employees are not willing to work under fear.
"We have to send technicians 200-300 km into the red zone from Jagdalpur (the divisional headquarters of Bastar) to repair the appliances," says Aviral Bhansali, head of another leading electronics company.
"There is a market for white goods in rural Bastar, but it is yet to be explored," says R Hanspal, a senior execute of a company. According to him, its executives have started moving in the area to study the market before starting outlets and authorised centres.
Till then, it would be the good old local TV sets (Delhi model, in local parlance) in Bastar households. Traders find it easy selling them cheap and consumers don't mind dumping them if not repaired.