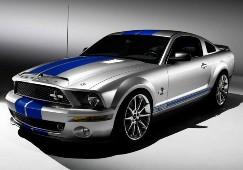 Super hyper cars, or ultra-high-end exotic cars which are designed to provide a clean, safe and highly efficient performance, are set to storm Indian roads by the end of this year.
Dubai-based Ultimate Motors, one of the leading distributors of exotic and luxury sports cars in the world, will launch three brands of Super Hyper Cars (SHCs) -- Shelby, Zenvo and Arash -- by December.
"The demand for luxury cars in India is increasing of late and people are now keen to have customised cars. We are in touch with four leading dealers in India and expect to launch the commercial SHCs by the end of this year," Ultimate Motors' president Nasser Al-Hai told PTI on the sidelines of a luxury lifestyle event in Mumbai.
US-based Shelby SuperCars' Ultimate Aero has been recorded as the world's fastest car with a speed of 413 kilometres per hour (257 mph) and produces 1,183 horsepower thus making it the world's most powerful production car.
It can reach from 0-to-60 mph in 2.78 seconds. Similarly, Denmark's Zenvo and UK-based Arash are also in the race to introduce their SHCs into the Indian market.
Arash has a unique road car aerodynamics whereas the Zenvo comes with full carbon body and steel chassis.
All the three SHCs are priced at a range of Rs 2.4-5.4-crore (Rs 24-54 million).
SHCs are exotic cars, whose performance is superior to that of its contemporaries and have been defined specifically as 'a very expensive, fast or powerful car with a centrally located engine.'
Initially, Ultimate Motors is expecting to sell three units of Shelby, two units of Zenvo and four cars of Arash by next year.