The demand has gradually shifted from 16-tonners to 25-tonners and is further shifting in favour of 31-t and 37-t trucks.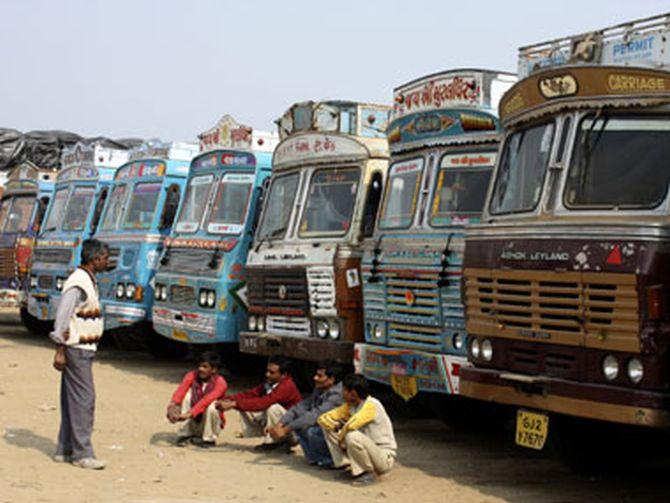 In the backdrop of higher spending on infrastructure and demand in the replacement market, the commercial vehicle (CV) industry expects to surpass its growth of 20 per cent in 2017-18.
CV sales fell in the first six months of FY18 (April to September), due to demonetisation, implementation of the goods and services tax (GST) and the transition to new emission standards.
Turnaround came in the third and fourth quarters of the year ended March 31, 2018.
Ratings agency ICRA says the heavy CV (truck) segment outperformed the industry average at 28 per cent growth, to 212,000 units driven by demand from end-user industries, particularly automobiles, container traffic and bulk material.
Automobile makers have seen strong revival in sales, aided by the higher government spending on infrastructure, greater replacement demand and easing of GST-led disruption.
Also stricter implementation of overloading norms over the past 12-18 months across much of North India, such as in Uttar Pradesh, Rajasthan, Punjab and parts of Madhya Pradesh, said Subrata Ray, senior group vice-president at ICRA.
The industry, he says, has been gradually seeing a higher preference for higher tonnage trucks over the past decade.
The demand has gradually shifted from 16-tonners to 25-tonners and is further shifting in favour of 31-t and 37-t trucks.
In particular, sales in the 37-t segment has seen a sharp jump.
Capacity addition (in tonnage terms) in the system outpaced volume growth and grew by 30 per cent, compared to a 19 per cent rise in medium and heavy CV sales the previous year.
The 35-t and above segment's share rose to 63 per cent in FY18 from 19 per cent in FY13.
And, average tonnage of trucks in India had risen from 15t in FY09 to 20t in FY18.
This trend has been supported by the economics of higher tonnage models, better road infrastructure, a dearth of experienced drivers and stricter implementation of overloading norms.
As vehicle tonnage increases, truck economics also improves, especially over longer distances, as the cost of operations is not directly proportional to a vehicle's payload or revenue generation.
For instance, ICRA says, the cost of operating a 35-t is about 35 per cent less as compared to a 16-t truck, on the basis of tonne-km.
CV makers, including Ashok Leyland and Tata Motors, did not wish to comment for this report, stating they were in the 'silent period' (before announcement of quarterly results).
However, senior officials and analysts say the growth momentum will continue.
Pawan Goenka, managing director (MD) at Mahindra & Mahindra, has said 2018-19 will be one of the best years.
With the new emission stardards coming in, a lot of fleet replacement fleet is expected in FY19 and FY20; the new standards take effect from April 2020.
Vinod K Dasari, MD at Ashok Leyland, recently said, "I think the market is very bullish for the next couple of years. This year because of the infrastructure it looks very bullish.
"The year after is the Euro-VI (standards) pre-buy year; also when the scrappage policy kicks in. If you ban 15-year-old vehicles, that alone would be 700,000 vehicles, worth two years of demand."
Photograph: Reuters