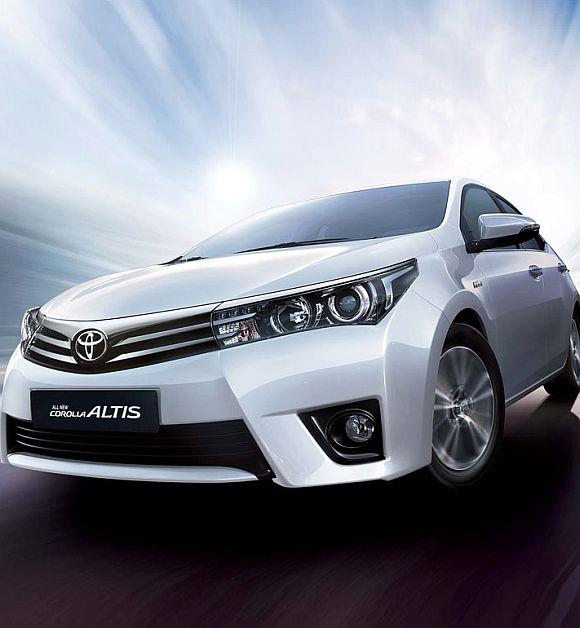 Image: Toyota Corolla Altis. Photograph:

Courtesy, Toyota



Premium sedans such as Toyota Corolla, Chevrolet Cruze, Renault Fluence, Hyundai Elantra, which once were status symbols of their owners, are struggling to attract customers.
Buyers are either switching to high-end variants of cheaper mid-sized sedans, feature-rich SUVs or entry-level luxury German models.
According to Society of Indian Automobile Manufacturers, annual sedan sales in the Rs 10-20 lakh (Rs 1-2 million) price bracket have shrunk by more than half over the last three years.
The sales have fallen to less than 15,000 units from around 35,000 units three years ago. By the end of March 31, 2014, the number of such models came down to six from nine in March, 2011.
Last year, the segment dipped to 14,875 units, a fall of 33 per cent over the same period last year when 22,195 units were sold, as per SIAM.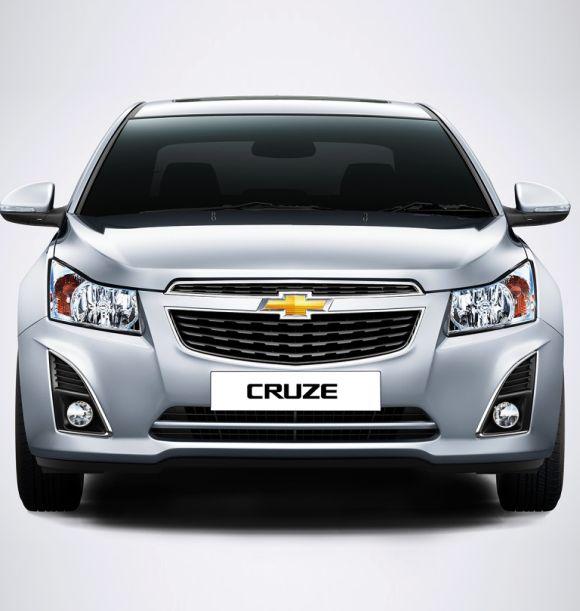 Image: New Chevrolet Cruz. Photograph, courtesy: Chevrolet



The segment now constitutes 0.89 per cent of the car market as compared to 1.77 per cent three years ago, when demand was at its peak.
While the leader, Corolla Altis, by Toyota Kirloskar Motor went for a face-lift in May, a subdued demand forced its Japanese counterparts, Honda and Maruti Suzuki, to withdraw.
While Maruti Suzuki withdrew the Kizashi sedan, Honda Car India pulled the plug on its Civic in 2012. However, it retained its flagship luxury sedan, the Accord.
The Civic competed with the Toyota Corolla, Volkswagen Jetta and Skoda Laura. Honda has decided against launching the latest model of the Civic.
The company is, instead, focusing on the mid-sized City, cashing in on one of the consequences of the decline of Civic's segment.
Honda claims that up to 65 per cent of City buyers are picking up its middle and top variants.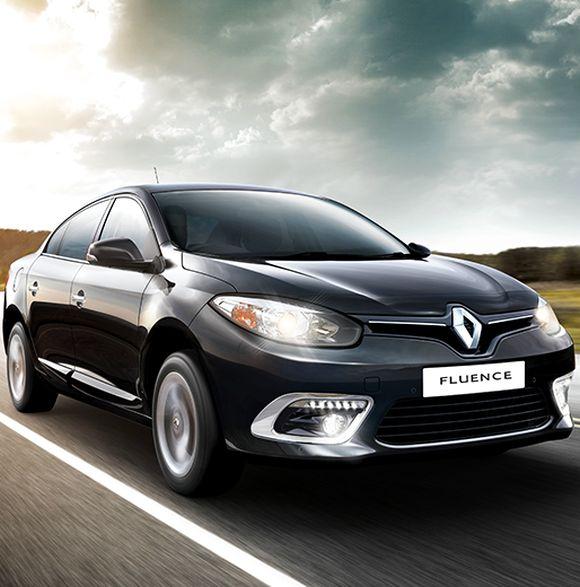 Image: Renault Fluence. Photograph, courtesy: Renault



Jnaneswar Sen, senior vice-president (marketing and sales), Honda Cars India, says, "The segment has shrunk significantly over the recent years.
"Three years ago, the Civic alone used to see sales that all of the models put together generate today. Most buyers have moved a segment below for the fully-loaded variant of the City instead".
The top-end variant of the City, Honda's highest-selling car, and mid-sized sedans leader, costs Rs 11.60 lakh (Rs 1.16 million), while the base variant of the Toyota Corolla Altis costs Rs 11.91 (both ex-showroom, Mumbai).
Hyundai's Verna, City's rival, is witnessing a higher demand for its more expensive variants, too. Earlier this year, Hyundai launched a fifth variant, priced the highest at Rs 12.06 lakh (Rs 1.20 million).
To counter City's lead, the new Verna has features like leather upholstery, speed-sensing door lock, automatic headlight control and a smart key with illuminated start button.
The City's top variant comes packed with features like an electric sunroof, smart entry-key system, paddle gear-shift, leather interiors and creature comforts like a reading lamp for back-seat passengers.
Buyers eschewing premium sedans complain about higher maintenance and running costs and low resale value as the reasons to shift to cheaper mid-sized sedans.
After all, the interior space and quality of mid-sized sedans are comparable to premium sedans and the trade-off in power is minimal.
Potential buyers of premium sedans have even migrated to feature-rich SUVs, says Mahindra & Mahindra.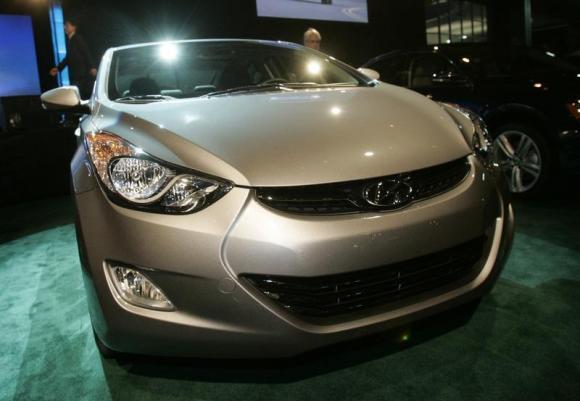 SUVs close in
Image: Hyundai Elantra. Photograph: Rebecca Cook



The company's premium SUV, the XUV500, is offered at a price slightly lower or at par with premium sedans.
Sales of the XUV500 crossed 100,000 units in less than three years, just when premium sedans started to decline.
Pawan Goenka, executive director, Mahindra & Mahindra says, "Utility vehicles (today) are as comfortable as sedans.
"There is no hesitation to choose an SUV instead.
"It is now acceptable to drive up in an SUV to a luxury hotel porch."
Luxury within reach
The segment above Rs 20 lakh or Rs 2 million (comprising Japanese luxury sedans) have also seen a dip.
The combined sales of six cars, including the Honda Accord, Toyota Camry and Nissan Teana, dropped 42 per cent to 2,542 units last financial year, as per SIAM.
Potential buyers are shifting to German marques such as Mercedes (A and B Class), BMW (1 series and X1) and their entry models.
Audi made the most-recent foray with the A3 sedan.
Most are priced under Rs 25 lakh (Rs 2.5 million).
However, the Japanese are readying to take on the Germans. All three Japanese giants are preparing to bring their established luxury brands, popular in the US.
While Toyota and Nissan have cemented plans to launch Lexus and Infiniti, respectively, Honda is mulling launching Acura.