Market leaders Maruti Suzuki and Hyundai, who together control two-thirds of the domestic market, have not yet firmed up a decision on raising prices.
Illustration: Uttam Ghosh/Rediff.com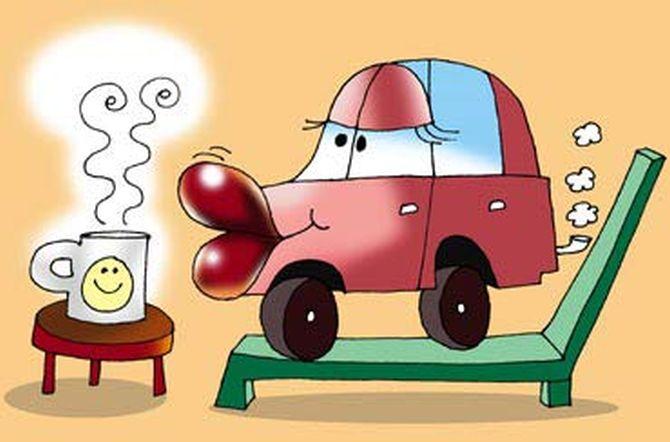 There is an eagerness among carmakers to announce price hikes that may be effective from January, which is still five weeks away.
Mahindra & Mahindra announced a hike of up to Rs 40,000 on the Marazzo, a multi-purpose vehicle, 45 days in advance.
Luxury carmaker BMW also made an announcement of a price hike 40 days before the actual hike.
The company wants to impose a hike of up to 4 per cent from January.
It has been customary for automobile makers to increase prices from January every year to pass on the cumulative cost push.
Earlier, such announcements were usually made in the second or third week of December.
This year, there is greater urgency to clear stocks that have piled up at dealerships, following a subdued festive season.
A price hike announcement is expected to pull some customers to showrooms and add to sales volume.
Japanese carmaker Toyota announced its intent of a price rise of up to 4 per cent on Tuesday, five weeks in advance.
"The announcements are more like a message to the customers, who may want to take a call on having a better price deal before January.
"It is difficult to absorb the high costs now, as it will start reflecting on the financial health. Going by the trend, any hike impacts demand by 2-3 per cent and the impact lasts for up to a quarter before normalising," said N Raja, deputy managing director, Toyota Kirloskar Motor.
A double-digit depreciation in rupee against the dollar, despite recent recovery, has put pressure on margins of manufacturers, who import certain components. US carmaker Ford's India unit is also said to be weighing a hike.
Market leaders Maruti Suzuki and Hyundai, who together control two-thirds of the domestic market, have not yet firmed up a decision on raising prices.
It is interesting that companies are talking of a price hike at a time when steep discounts are being offered on most of the vehicles and there is no waiting period in most cases. Dealers are struggling to clear the inventory.
A statement from the Federation of Automobile Dealers Association, last week, said the average inventory level at car dealerships was 50 days before the start of the festive season and that has come down to 45 days after the festive season, ending with Diwali three weeks ago.
It is also unlikely that companies will be able to have a meaningful increase in the realisation of a unit even after a hike, since discounts are expected to continue or even go up.
An industry expert said there was an average discount of 6-7 per cent on most vehicles.
The last hike announced by the companies in July-August was completely offset by the steep discounts in the subsequent months.
Since the January-March quarter of 2018, average discount per vehicle at Maruti Suzuki increased 34 per cent to Rs 18,700, according to the numbers available for the July-September quarter.
The result: Average price realisation per unit has remained flat in spite of two price rises in January and in August.
"Discounts are market driven. Everyone has to create excitement and in a bad market discounts do go up," R S Kalsi, senior executive director (marketing and sales) at Maruti Suzuki, said last week.