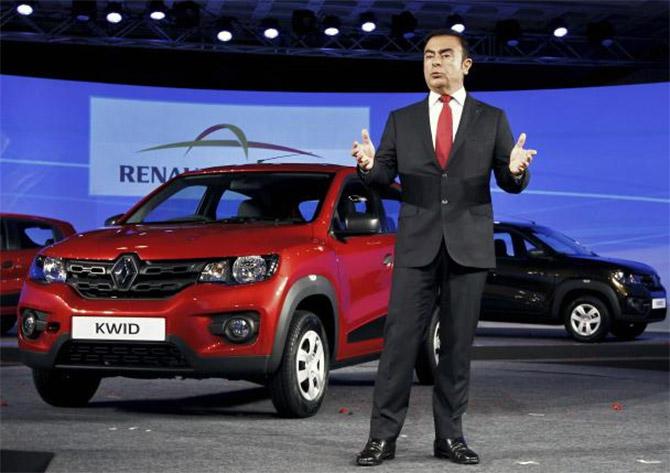 While Renault-Nissan has had some success in India, its six partnerships have either unravelled or threaten to do so
Exactly a decade ago, Carlos Ghosn, the well regarded Renault-Nissan honcho, famously coined the term 'frugal engineering' after witnessing cost-effective innovations by Indian engineers.
So he decided to have not one but six partnerships with marquee Indian companies, Mahindra & Mahindra, Ashok Leyland and Bajaj Auto, to make a low-cost car, no-frills sedan, mini truck, vans, and powertrains.
Today, three of these partnerships have broken down and a cloud of uncertainty hangs over the other three.
The Nissan-Ashok Leyland partnership is the latest to run into rough weather with the Chennai-based truck maker dragging its Japanese partner to court over usage of the joint venture's assets for producing Nissan cars, which were otherwise meant for small trucks, according to reports.
Nissan has three joint ventures with Ashok Leyland: one each for vehicle manufacturing, engine and transmission production, and technology development.
While vehicle production will likely be hit following the tussle, engine production ceased a while ago and there is no update on the technology development partnership.
Though it lasted just six years, this Indo-Japanese partnership is the longest surviving amongst all Ghosn had initiated, better even than the sedan venture with Mahindra & Mahindra that announced Renault's entry into India.
The India advantage
Impressed by the 'Indian way of manufacturing', Ghosn had in 2007 forged two joint ventures with tractor -- and SUV-maker Mahindra & Mahindra, one to make the no-frills Logan sedan and the other to market and distribute it.
Sold under the low-cost brand Dacia in Europe, Ghosn believed the mid-sized sedan will become a hit, given its attractive price of Rs 4.28 lakh.
The Logan struggled to find takers, thanks to its dated looks, performance and service issues.
The strain began to show.
Three years later, the French company sold its entire stake in the partnership to Mahindra & Mahindra. Prior to the breakup, Mahindra Renault had run up a loss of nearly Rs 500 crore (Rs 5 billion).
Ghosn's partnership that got the maximum attention was the one with motorcycle and auto-rickshaw maker Bajaj Auto.
Again, impressed by Tata Motors' Nano, which came with a price tag of just Rs 100,000 in early 2008, Ghosn instantly promised a car priced around the same figure.
Bajaj Auto, with no car-making experience but with sound knowledge of cost-efficient production, was tasked to develop the car.
Renault and Nissan were to provide technical inputs.
However, even before a prototype could be readied, differences over positioning of the vehicle cropped up, so much so that the partnership had to be called off three years later.
With low car density and rising disposable income, India attracted car makers from across the world: Japan, Korea, Europe and the United States. More than half of the domestic market was controlled by one player, Maruti Suzuki, which further fuelled the ambition of the car makers, Ghosn included.
Add to that the attraction of frugal engineering.
Ghosn's idea was to establish Renault-Nissan in India through partnerships with Indian companies with a track record of low-cost product development and manufacturing.
He needed Indian partners also because of their knowledge of local markets. Examples of a similar strategy followed by others were many.
Italian car maker Fiat had joined hands with Tata Motors.
Ford, General Motors and Mitsubishi had done the same.
What went wrong?
"The automotive Industry has a poor history of alliances.
The alliance partners start with a common objective and see the benefit for both the parties (technology access, market access and so on). But due to changes in their strategies, disagreements crop up," says Price Waterhouse Partner Abdul Majeed.
"Partners begin to feel the alliance is more of a constraint than an opportunity."
Ghosn's eventual idea was to have a local development unit that is fully capable of churning out products that are not as expensive as those in the west but are no less appealing in design, styling and performance.
The result was the rebirth of Datsun, a brand which was decommissioned three decades ago and revived only to meet the needs of the first-time car buyers in emerging markets like India.
Ghosn, who was the brainchild behind the reboot, was confident that Datsun will lead the way for the Renault-Nissan alliance in India, notwithstanding the cold start.
But two years after the launch, Datsun remains a fringe player in the market. With just two models, the Go hatchback (priced at Rs 3.37 lakh) and Go+ multi-purpose vehicle (Rs 3.95 lakh), Datsun is struggling to survive.
Luxury car market leader Mercedes-Benz clocked higher sales than Datsun in 2015.
Despite the breakups and the lacklustre performance of Datsun, Renault-Nissan has not done badly. Wisely, Ghosn set up a factory at Chennai with two marketing arms, one for Renault and the other for Nissan.
Together, the two companies opened up the compact SUV market in the country with the Renault Duster and, to a lesser extent, the Nissan Terrano.
Their success attracted others like Mahindra & Mahindra, Ford and even Maruti Suzuki to the segment.
Renault's recent success with compact car Kwid is another feather in its cap. "We are happy with the success of the Kwid because we designed this car and produced this car here.
"We will use the success of the Kwid in all our future launches" Renault SA Senior Vice-president (Africa, West Asia and India) Bernard Cambier says.
Launched five months ago, the five-seat hatchback, which challenges the Maruti Suzuki Alto and Hyundai Eon, has become the most successful Renault model in India with outstanding bookings of 100,000 and a waiting period of six to eight months.
To build on this success, Renault, taking a leaf out of Maruti Suzuki's strategy for Alto, had decided to offer a more powerful engine (1,000cc, currently it runs on 800cc) and a semi-automatic gearbox. More could come in the future.
"What is important is that we don't need a lot of models to be at 5 per cent market share or more in India.
You can do 2 per cent with 10 models but you can also do 10 per cent share with only 4 models. We will launch new models using the CMF-A platform and we want to have four or five very successful models in India," says Cambier.
With the Kwid, Renault has already hit the 5 per cent market share in February. Nissan too will make use of the flexible CMF-A platform to build cars under its own badge.
Sister brand Datsun will introduce a hatchback, the Redi-Go, later this year followed by a crossover next year.
Image: Carlos Ghosn, CEO of the Renault-Nissan Alliance, speaks to the media as he stands next to Renault's new Kwid car during its launch in Chennai. Photograph: Reuters