New regulatory rules, softer freight rates and a liquidity crunch at non-bank lenders are among the reasons.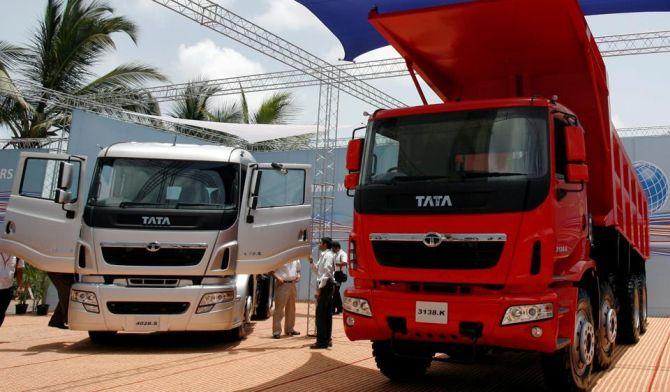 Growth in sales volume of medium and heavy commercial vehicles (M&HCVs) is not expected to exceed 4 per cent this financial year, after double-digit rises for two years.
New regulatory rules, softer freight rates and a liquidity crunch at non-bank lenders (which finance half of CV sales) are among the reasons.
Credit outlook for the industry, however, is expected to be stable, owing to steady operating margins, said rating agency CRISIL.
Light CV volume sales growth would also lessen but still be a healthy 9 per cent.
CV majors Ashok Leyland and Tata Motors are, however, optimistic about their growth.
They expect a stable government, and pre-buying ahead of the scheduled change from next April to higher vehicle emission rules to spur demand.
The pre-buying is expected from the year's second half, since vehicle prices are expected to rise by around a tenth in the transition to the higher BS-VI emission norms.
The benefit of pre-buying will be partially offset by inventory liquidation.
With the Supreme Court barring registration of BS-IV vehicles after end-March 2020, dealers would begin liquidating these models as the deadline nears.
That would reduce overall wholesale volumes for 2019-20, on a net basis.
CV makers will have to balnce sales growth and inventory liquidation.
Excess production would mean higher discounts or write-offs. Tepid volume growth and stable pricing would mean the overall CV industry revenue would rise around 8 per cent to around Rs 1.2 trillion, said CRISIL.
Operating profit is seen rising a healthy 8 per cent to Rs 12,500 crore in the sector; capital expenditure is seen as moderating at around Rs 5,000 crore.
Those in the segment should continue to generate positive free cash flow.
That would also follow a significant improvement in the financials of CV players over the past five financial years, driven by strong volume growth and operating leverage.
"I am optimistic that the industry will grow 10-12 per cent this fiscal and we will outpace this," said Dheeraj Hinduja, chairman at Ashok Leyland, in an interview.
His optimism is mainly in the backdrop of the BS-VI switchover and a push for infrastructure growth and capital investment from a strengthened central government.
Girish Wagh, president of the CV business unit at Tata Motors, said his company has already seen the benefit from its turnaround strategy in FY19 and will continue to intensify the latter.
He spoke of aggressive focus on market activation, customer engagement and product launches, as well as a keen watch on cost reduction, inventory management, and leveraging of product and supply chain efficiencies.
"With the BS-VI norms coming into play, we will be more prudent with inventory across product platforms.
"Advent of BS-VI pre-buying is expected to bolster growth," he said.
"Operating margins of CV makers improved sharply to around 11 per cent in fiscal 2019 from near break-even levels in fiscal 2014, driven by an average 15 per cent volume growth in M&HCVs," said Naveen Vaidyanathan, associate director at CRISIL.
"That enabled players to sharply reduce financial leverage, leading to strong credit metrics that should sustain in this fiscal as well."
With a a majority government at the Centre and expectation on stable economic policies, higher infrastructure investment and gradual recovery in consumption, the CV sector is expected to see better demand in the medium term, says CRISIL.
Declining interest rates would also provide a tailwind to demand.
Photograph: Punit Paranjpe/Reuters