It's a post-truth world for multinational brands and businesses too.
Illustration: Dominic Xavier/Rediff.com.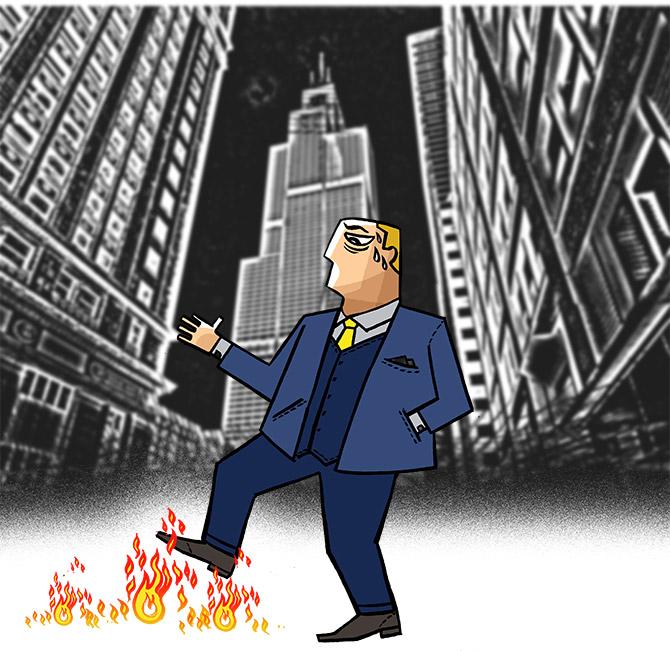 Pepsi and Coca-Cola are again in a tight spot in India, this time with a powerful section of the Tamil Nadu traders' association continuing with its two-month-old boycott of the cola majors' products on the issue of alleged abuse of groundwater in the state.
Seen as non-essential goods, the cola majors are easy targets for anyone looking for a cause -- from farmers in Plachimada to political groups, green lobby et al.
Will the rise of shrill nationalism in the US under Donald Trump, retreat of multi-lateralism a la Brexit and return of the swadeshi lobby in India -- witness Ramdev's billion-dollar Patanjali brand's strong anti-multinational moorings -- make such symbols of Pax Americana and other globe-trotting MNCs more susceptible to such attacks?
On a broader level, with globalisation on the retreat, thanks to the prolonged economic slowdown and the rise of the alt-right across continents, should MNCs get ready for an environment where their brands and businesses will come under more scrutiny?

In its end January issue, The Economist ran a cover story on the retreat of the multinational company. The newspaper argued, 'The changing political landscape is making things even harder for the giants. Mr Trump is the latest and most strident manifestation of a worldwide shift to grab more of the value that multinationals capture.
'China wants global firms to place not just their supply chains there, but also their brainiest activities such as research and development.
'Last year Europe and America battled over who gets the $13bn of tax that Apple and Pfizer pay annually. From Germany to Indonesia rules on takeovers, antitrust and data are tightening.'

Well, Coke and Pepsi apart, the ire against MNCs is already growing. American online retailer Amazon was hauled over the coals by the Indian Twitterati, and later threatened with visa cancellations by no less than the country's foreign minister, when its Canadian subsidiary was seen selling tricolour doormats.
Recently Snapchat witnessed a rating downgrade on app stores over an allegation that its founder Evan Spiegel called India a "poor country" where its product is not relevant or affordable to lots of people, though the company has denied Spiegel made any such statement.

Why, many saw an anti-foreigner agenda in the monosodium and lead controversy that engulfed Swiss food major Nestlé's noodle brand Maggi two years ago.
If Trump can turn off the tap on visas that the Indian IT sector uses to send thousands of engineers to work at client offices in the United States, our commerce minister, in not too subtle a tone, hints that "US firms, too, have India operations".

It's not just that we're becoming more thin-skinned and getting easily offended, and tit-for-tat trade diplomacy may just be on us, the air of protectionism sweeping across continents is giving lobby groups new ammo to fight for vested interests.
Witness how foreign capital-funded Indian start-ups have come around to demanding a level playing field vis-à-vis what they call deep-pocketed MNCs. From Flipkart, Ola, MakeMyTrip to Mobikwik, all in the last year or so have alleged their MNC rivals of capital dumping to win consumers and market share and have wished the government takes a call on reining in the foreigners to create "regulatory parity" for a level playing field.
Why, even airline pilots are lobbying with the government to keep foreign pilot numbers capped to protect their ilk. National Aviator's Guild, the body that represents Indian pilots, last week said that Jet Airways is treating them in a "step-motherly" manner and alleged foreign pilots of "racist approach".

Indian firms and groups may have a relevant grudge here, but that is not the point of this article. Rightly or wrongly the narrative that is building across businesses is an anti-MNC one, where facts are irrelevant and perception and appeal to emotions rule large.
In that sense, it is the post-truth world for MNC brands and businesses and they know they have to not just grin and bear it, but work harder to keep demonstrating their sincerity, inclusiveness and Indian-ness.

Witness how Nestle, a firm often seen as reluctant to engage with the Indian media, is now forthcoming in sharing its plans for products and markets in the country, with its CEO of two years, Suresh Narayanan, taking the lead.
Amazon India never misses an opportunity to reiterate that the firm is incorporated in India, and runs a campaign that leverages our love for neighbourhood shops and cricket.
And Uber celebrates with Holi Dhol vans vending festive goodies and Ugadi discount coupons to its Indian customers.